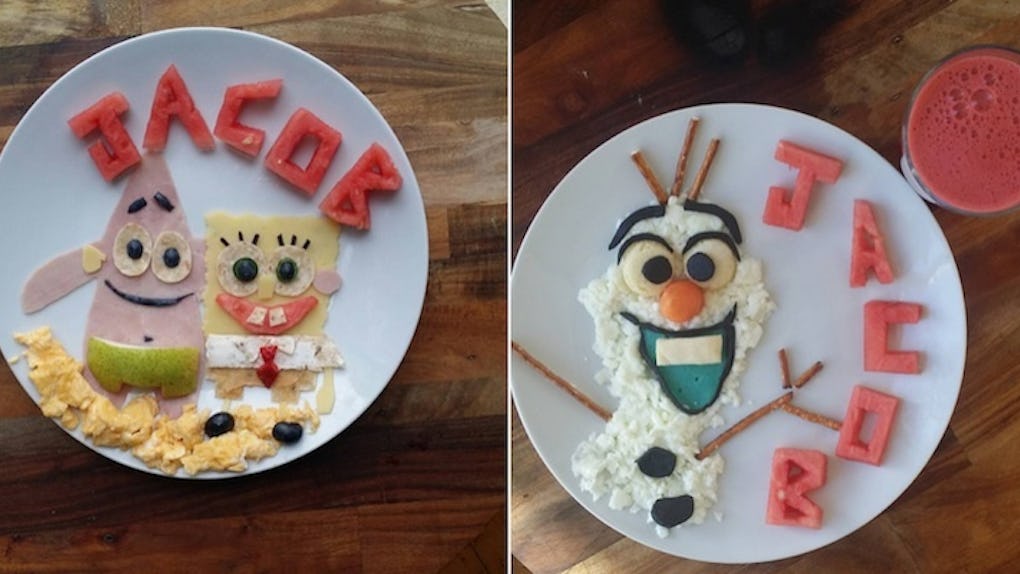 Instagram
This Awesome Cartoon-Inspired Food Looks Way Too Delicious To Eat (Photos)
Sticking to a healthy diet is easier said than done.
Anyone who ever tried to put a halt to his or her consumption of fast food and sweets is aware of this.
But, there has to be a way to trick yourself into eating healthy, and one Australian mother's food-art strategy could be the answer!
Food artist Laleh Mohmedi decided to use her skills to encourage her son, Jacob, to eat his incredibly healthy lunches.
Mohmedi visually recreates Jacob's favorite cartoons using a variety of healthy foods such as fruits and vegetables.
The artist told BuzzFeed Life,
Each meal roughly takes between 20 and 35 minutes.
If time is money, then that's a small price to pay to make sure your kid is eating smart at just 2 years old!
Check out the photos below for a closer look.
Looking for new, creative ways to motivate yourself to stick to healthy eating habits? Take notes from Laleh Mohmedi!
She uses her food art to recreate her son's favorite cartoon characters.
https://instagram.com/p/5asE6FTSQm/embed/
From animated legends like Donald Duck...
And Chuckie from "Rugrats"...
https://instagram.com/p/5ivA0fTSXR/embed/
To characters like Oh from Disney's "Home"...
And Joy from Pixar's "Inside Out"...
...there are a few creative and healthy lunches for Mohmedi's son. Even Pinocchio made his debut!
The Great Gonzo and Fozzie Bear from "The Muppets" also got food-art makeovers.
Mohmedi does wonderful recreations of DreamWork's "Turbo"...
Olaf from Disney's "Frozen"...
Mike from Disney's "Monsters, Inc."...
Mr. Potato Head from "Toy Story"...
SpongeBob and Patrick from "SpongeBob SquarePants"...
...and Shrek. So far, Jacob's mom racked up over 2,000 followers on her Instagram page!
Citations: This Mom Is Instagramming Amazing Meals Inspired by Cartoons (TIME)