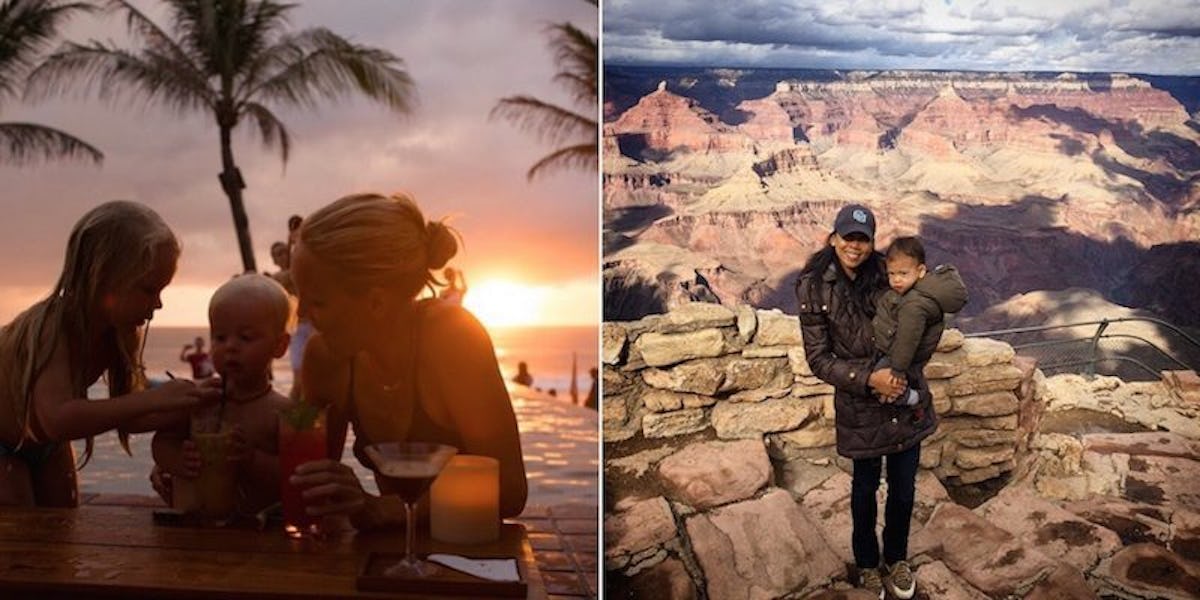 These Globetrotting Millennial Moms Want To Show Their Kids The World
Instagram
Everyone knows the best time to travel is when you are young and carefree.
Often, we think our days of epic adventures are over once we decide to settle down and have kids, even if we're still on the younger side of the adulthood spectrum.
This doesn't always have to be the case.
Starting a family should enrich your life and never hold you back from pursuing your passions or doing the things you love, like spontaneously packing your bags and traveling the world.
If there's one group of women that knows this better than anyone else, it's Millennial Moms.
Millennial Moms tend to have a slightly different approach to parenting then the generation of mothers before them.
Instead of forgoing family vacations or leaving the kids at Grandma's for the weekend, these Gen-Y globetrotters simply pack up their precious cargo and take their kids along for the ride.
By traveling alongside their little ones, these young moms encourage their babies to broaden their horizons, explore their surroundings with wide eyes and ultimately become citizens of the world who are always open to the new ideas, attitudes and cultures they encounter during their journeys around the globe.
Thanks to their adventurous mothers, these lucky kids probably have more stamps in their passports than some adults.
Take a look at the pictures below to see these full-of-wanderlust Millennial Moms who show their kids the world.
Every Millennial Mom knows having kids shouldn't hold you back from doing what you love...
Even if your passion happens to be exploring different destinations all over the globe.
These young women prove you can be an awesome mom and keep your sense of adventure...
By simply traveling the world with your baby by your side.
These Millennial Moms are on a mission to broaden their babies' horizons...
By showing them everything from the gorgeous forests of Germany...
And the glorious Grand Canyon...
To the mesmerizing blue waters of Mallorca...
The green pastures of Scotland...
And the stunning sunsets in Bali.
Just like their globetrotting moms, these kids are sightseeing pros who have gotten a glimpse of signature landmarks in every city, like the Eiffel Tower...
The skyscrapers of New York City...
And good, old Big Ben.
Whether these moms are soaking up the sun in Cabo Rojo...
Going for a hike through the hills of Hawaii...
Scoping out the scenes in Italy...
Or making some new, wild friends along the way...
You can be sure their little ones are never far behind.