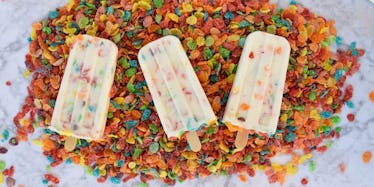 Milk And Cereal Popsicles Will Make Your Mornings A Whole Lot Sweeter (Photos)
A wise person once said,
Eat cake for breakfast.
I tend to be a rebellious, fat kid at heart, so I like the idea of going against the grain and swapping out boring, old avocado toast for a sweet morning treat.
Not too long ago, we actually showed you all sorts of ways to turn your favorite desserts into morning meals.
If you thought those were amazing, you'll be glad to know we came across another recipe you can add to your list: Milk & Cereal Popsicles.
That's right. The clever woman behind the food blog Public Lives, Secret Recipes just took your beloved bowl of Fruity Pebbles to a whole new level of awesomeness by transforming it into a portable, delicious breakfast treat.
PLSR was even nice enough to reveal the recipe, so you really have no excuse not to incorporate some fun, icy flavor into your morning routine.
Seriously, once you get a taste of this Fruity Pebbles snack on a stick, you'll ditch the spoon and say "sayonara" to that cereal bowl and chain for good.
Take a look at the pictures below to see these awesome cereal pops.
Your morning is about to get a whole lot sweeter...
...because Milk & Cereal Popsicles are now a reality.
This tempting treat comes to you courtesy of Public Lives, Secret Recipes...
...and basically turns your bowl of Fruity Pebbles into a frosty, portable snack.
If you're wondering how to get your hands on these babies, you'll be glad to know it's insanely easy to make them yourself.
For the ingredients, you'll need vanilla Greek yogurt, milk and lots of Fruity Pebbles, of course!
Plus, you'll also need some popsicle sticks and ice-pop molds.
Simply mix the yogurt, cereal and milk together in a large bowl, pour the mixture into the molds and freeze for 24 to 48 hours. Then, you'll have an icy treat totally worth getting out of bed for.
Citations: Milk And Cereal Popsicles Are Guaranteed To Make Breakfast More Fun -- Recipe (Bustle)