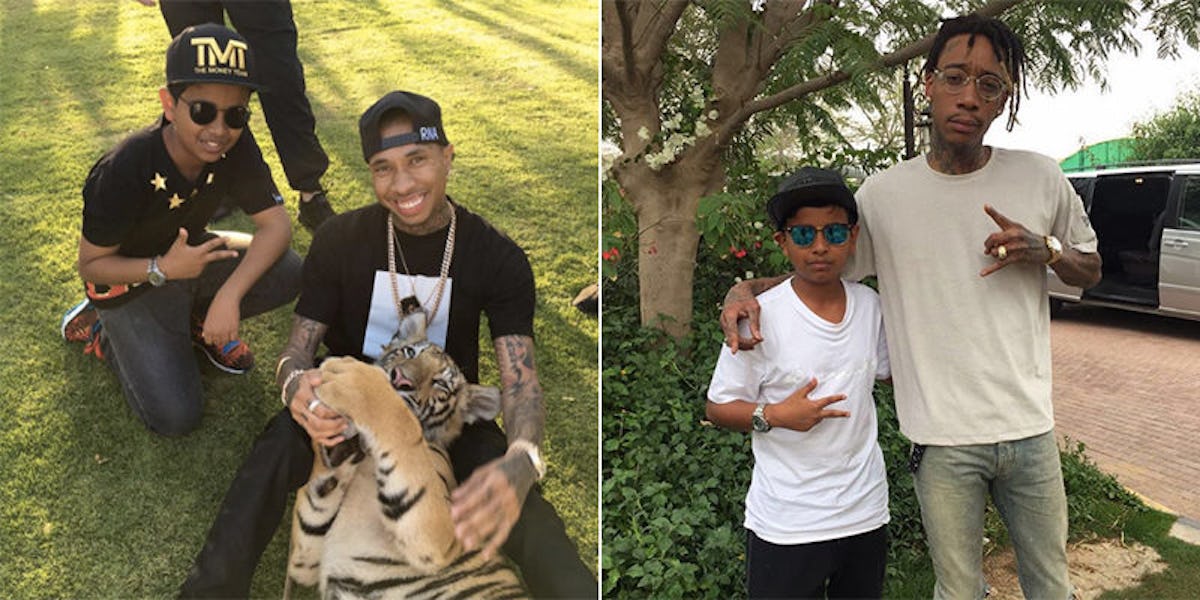 Meet The Rich Ass Kid From Dubai Who Hangs Out With Literally Every Rapper
Instagram
When you're the son of one of the wealthiest businessmen in Dubai, it's safe to say that your entire life is lit.
We don't know much about Rashed Saif Belhasa, beside the fact that his father is Saif Ahmed Belhasa, one of the most successful entrepreneurs in the United Arab Emirates, and the fact that he owns a baby tiger and knows every rapper you could imagine.
His Instagram is living proof that when your daddy has bread, you can pretty much do anything, including buying friends.
This kid literally doesn't even have to leave the crib because the most poppin' people just show up to hang out.
Before he was on house arrest, Meek Mill paid young Rashed a visit.
And just one day later, Young Thug came through to chill.
The truth is if you're not stopping at this kid's house when you're in Dubai, you ain't poppin'.
Wiz Khalifa stopped by and definitely wasn't high while he was playing with the baby tiger.
This photo is just so damn literal.
They even went to the amusement park together afterward.
OK, Tyga, go find some friends your own age now.
Ty Dolla $ign pretty much became a part of the family after his visit.
As did Rich Homie Quan who is like a brother to him.
The Game went straight to his crib right when he landed in Dubai.
R&B singers like Trey Songz also stop by to check in with Rashed.
No other kid is messing with childhood like this right now.
When you're barely even 10 and are attending parties with Akon, your parents did something right.
Of course Rashed is hanging out with more than just rappers and singers.
He's really out here with some of the baddest of the bad.
Athletes like Cristiano Ronaldo come over and check up on him.
Of course we can't forget about Messi!
Life is pretty good when you're a rich ass kid from Dubai.
But out of all the people he's gotten to meet, this is hands down the most important one.