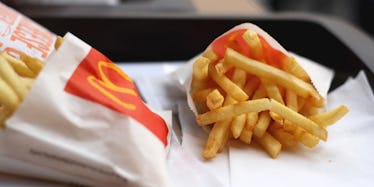 McDonald's Is Testing Out A New Type Of French Fries And They Look Delicious
Shutterstock
If you ask me, french fries might just be one of the tastiest foods ever invented.
Whether you're stuffing your face with a solo basket of these bad boys, eating them alongside your main meal or dipping them in a delectable milkshake, french fries are hands down the most delicious way to eat your vegetables.
When it comes to indulging with a mouthwatering mountain of french fries, I never discriminate.
From classic fries from the drive thru and sweet potato renditions to curly, waffle and truffle-infused fries, I love them all. If you happen to be a french fry fanatic, you know McDonald's has some of the best fries in the fast food category.
However, your favorite fries are about to get even better, because McDonald's just gave its famous menu item a badass makeover.
Yep, it appears McDonald's is testing out garlic fries in four of its San Francisco Bay Area eateries, and they look absolutely delicious, to say the least.
McDonald's is calling the new treat "Gilroy Garlic Fries." A news release for the chain says,
The new fries are made-to-order in McDonald's kitchens where restaurant employees toss French fries in stainless steel bowls with a purée mix that includes ingredients, such as chopped Gilroy garlic and olive oil, parmesan cheese, parsley and a pinch of salt.
Apparently, the garlic fries are part of a new initiative to incorporate regional flavors into the signature McDonald's menu items, and if all goes well, McDonald's will be rolling out these garlic fries in approximately 250 locations throughout the San Fransisco Bay region.
Take a look at the video for a closer look at these new garlic fries from McDonald's.
Citations: McDonald's Is Testing Garlic Fries (TIME)