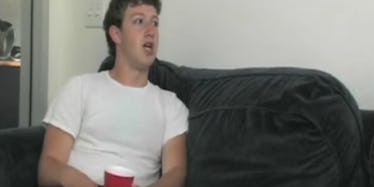 This Video Of Mark Zuckerberg Explaining Facebook 10 Years Ago Is Inspiring
YouTube
If there's any solid proof that time changes everything, it's this very rare video of Mark Zuckerberg explaining the concept behind "The Facebook" back in 2005.
These days, we all know of Facebook to be this mega social media platform, advertising tool and virtual high school reunion in one place.
If you've had a chance to watch "The Social Network," you know the overall purpose of its creation has changed over time. But exactly how much has it changed?
In this old video uploaded to YouTube by JumboLoad, we're introduced to a 21-year-old Mark Zuckerberg back in Palo Alto, as Facebook began making baby steps toward the 12,000-employee company it is today.
If you're looking for a bit of inspiration and proof that success takes as much time as it needs, this should do the trick!
Check out the video above for a closer look.
Citations: Watch 21-year-old Mark Zuckerberg explain Facebook (Fast Company)