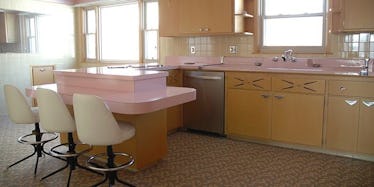 Man Finds Awesome Retro Kitchen That Hasn't Been Touched Since 1956 (Photos)
Nathan Chandler
Home decor is similar to fashion in the sense that it's always changing.
One season, everyone is installing shag rugs in their living rooms, and then before you know it, they're replacing them with hardwood floors. Let's face it, you wouldn't be caught dead with one of those outdated things in your house.
Since style tends to be so dynamic in nature, it's pretty hard to come across something that hasn't been updated and modernized over the years.
If there's one person who knows a thing or two about having a stylish home, it's furniture designer Nathan Chandler.
While searching for a new home, Chandler stumbled upon a pretty rare and unexpected real estate find.
After entering a house that had been sealed since 1956, he quickly realized the mid-century American decor of this old home was actually in pristine condition.
This house is pretty much the epitome the 1950s American dream home.
From the kitchen's baby pink counters to all of the old school appliances, everything about this home is dripping in retro style.
Not to mention, the interior of this time capsule house was so well-preserved, the unused appliances still had all of their original manuals attached.
Now that's impressive.
To see a kitchen that's a serious blast from the past, check out the pictures below.
GE appliances were a lot different back in the day.
Behold, the ultimate home decor from the 1950s.
Take a quick glance around this time capsule of a kitchen.
You'll see everything from the retro fridge...
 ...and all of the countertops...
...to the cute little oven.
Even the stove is decked out in pastel pink.
This may look like your average stove.
But take a peek below, and you'll see that back in the day, electric stoves had buttons.
And all the burners actually came with their own covers.
In the 1950s, they had dishwashers that pulled out all the way.
And the handles on this antique appliance are labeled.
It even has some perfectly persevered soap from the Golden Age hiding inside.
It shows how much smaller appliances were in the 50s.
The house was preserved so well, all of the original appliance manuals were still inside.
It's almost hard to believe something like this exists.