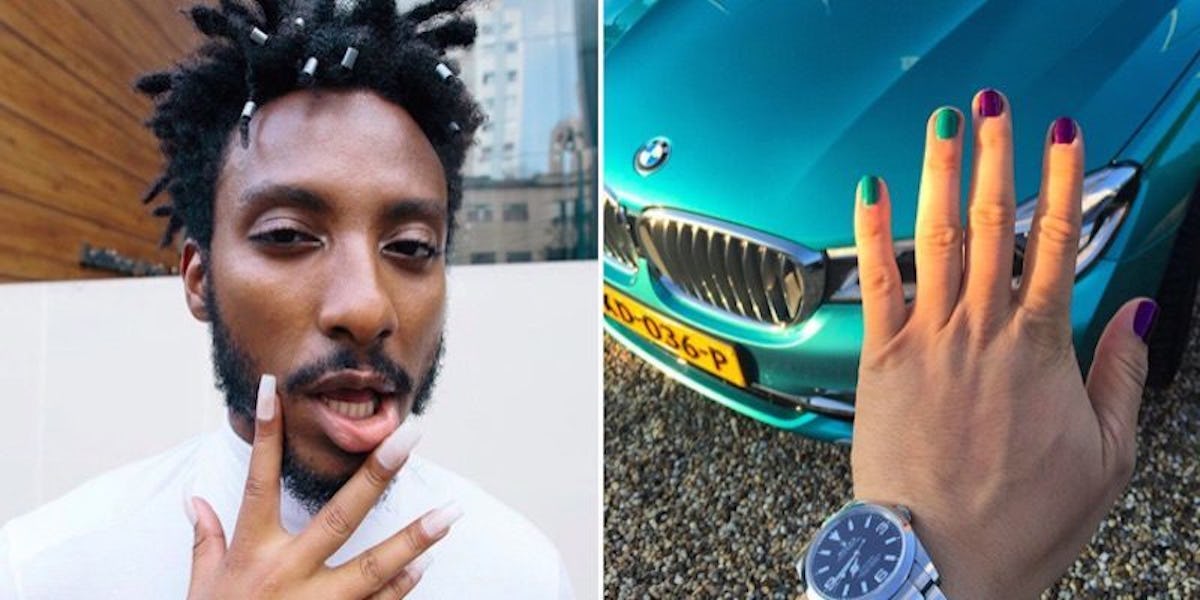 These #MalePolish Selfies Finally Put The 'Man' Back In 'Manicure'
InstagramInstagram
If you thought girls and goths were the only ones who painted their nails, think again.
It turns out men are finally putting the "man" back in the word "MANicure".
That's right. A few months back, Marc Jacobs resurrected the MANicure trend by posting a series of selfies with his painted nails.
He called it "#MalePolish".
Since then, we've seen men on all sides of the gender spectrum getting in on this bro beauty trend.
We live in an age when gender fluidity is becoming more common than ever, so it really shouldn't come as a surprise that guys are crushing gender norms by decking their digits out in all sorts of pretty polishes.
From bros with basic black manis and men with metallic "malepolish," to guys with gel manicures and fellas with bold fake fingernails, it's not hard to see that some of these dudes have more impressive mani's than some of us women.
Take a look at the pictures below to get a glimpse of this guy-approved grooming trend.
Nail polish isn't just for the ladies anymore.
Ever since Marc Jacobs started posting #MalePolish pics on Instagram...
...we've been seeing a resurrection of the masculine mani trend.
Yep, it appears men are finally putting the "man" back in MANicure.
And now, more dudes are snapping selfies of their polished fingers than ever before.
We've seen men match their tips to their whips...
...guys with gorgeous glittery polish...
...bros with black manis that are anything but basic...
...men with pastel-painted paws...
...dudes decked out in acrylic nails...
...guys with shattered glass nails...
...and fellas with fake nails that look fierce AF.
Seriously, who knew guys could have such pretty hands?
Citations: Malepolish (Instagram)