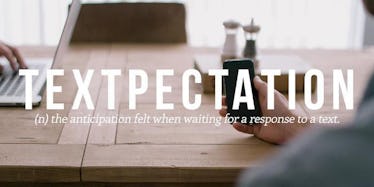 24 Made-Up Words That Should Definitely Be Included In The Dictionary (Photos)
Making up words isn't immature. It's just a way of highlighting that the dictionary can't keep up with the rapid evolution of the English language -- or any other language, for that matter!
That's exactly why every day, more and more people are creating makeshift words to express themselves. Using words that actually exist is becoming all too basic, and that's never good.
We came across a witty collection of words that should be in the dictionary but aren't. Why? Well, probably because more people would need to start using them first.
But we wouldn't be surprised if they did. I mean, the word "textpectation" doesn't exist, but it wouldn't be hard to make out that it means "the anticipation felt when waiting for a response to a text." That's something we can all relate to.
Check out the 24 awesome new words that should probably be in the dictionary.
Unlightening
Hiberdating
Destinesia
Textpectation
Columbusing
Youniverse
Carcolepsy
Ambitchous
Unkeyboardinated
Afterclap
Beerboarding
Nerdjacking
Doppelbanger
Eglaf
Nomonym
Dudevorce
Nonversation
Cellfish
Askhole
Bedgasm
Internest
Chairdrobe
Errorist
Masturdating
Citations: 24 Brilliant New Words We Should Add To A Dictionary (Bored Panda)