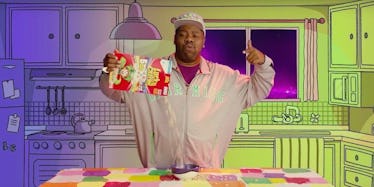 Lucky Charms Is Making Boxes Of Cereal With Only Marshmallows In Them
The unthinkable finally happened.
For years and years, I dreamed of one day being able to waltz over to my local supermarket and grab a box of Lucky Charms containing only the marshmallows. Today, we should all be happy to learn General Mills is making that dream a reality.
Let's face it, the marshmallows are the best parts about eating Lucky Charms in the first place.
According to Eater, only 10 super-lucky people can wrap their hands around boxes of this incredibly rare cereal release.
Want to be one of those 10 people? All you have to do is snap a photo of your marshmallow-obsessed self holding an imaginary box of Lucky Charms and then post it on Twitter, Instagram or Facebook using #Lucky10Sweepstakes.
To get participants geared up for the challenge of a lifetime, General Mills uploaded a catchy promotional video to its YouTube channel titled "Lucky Charms Marshmallow Only" starring rapper Biz Markie.
Hey, you probably have a better chance playing the lottery and winning, but it's worth a shot!
Citations: Lucky Charms to Release Marshmallow-Only Boxes (Eater)