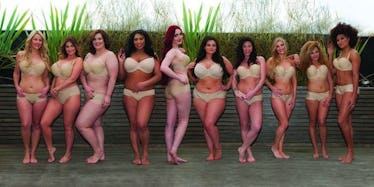 Lingerie Brand Remakes Victoria's Secret Ad With Different Body Types
Not too long ago, Victoria's Secret received a lot of backlash for creating an ad that compared the bodies of their stunning runway Angels to those of all the other women in the world.
In an attempt to challenge these unrealistic ideals of women's beauty, the UK-based lingerie company Curvy Kate just announced they will be holding a contest to find a model that represents all types of "real" women.
We make beautiful lingerie and swimwear that looks amazing on a wide range of figures and sizes, so we want models who represent this.
To promote the contest they took a jab at VS by recreating the controversial ad.
However, instead of using supermodels, they used a variety of beautiful ladies who actually represent women of all shapes and sizes.
Forget Victoria's Secret's body image ideals...
...Curvy Kate wants to show the world what beauty really looks like.