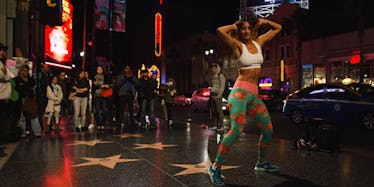 Lexy Panterra Just Dropped The Greatest Twerking Video Of 2015
Lexy Panterra owned 2015 and is poised for an even bigger 2016.
The viral sensation who blew up for her incomparable twerking videos, which she's capitalized on by creating her own fitness brand, LexTwerkOut, is now fully focused on paving her career as a multi-talented entertainer.
But the freestyle twerk video above set to DJ Snake's "Middle" featuring Bipolar Sunshine might be her finest display of twerking yet.
Set right in the middle of Hollywood, Lexy puts on an amazing performance that even includes her twerking with a snake wrapped around her neck. Get to know more about Lexy Panterra below.
Lexy recently released her first single, "Lit," which showcases her skills as a singer.
While a singing career may be a bit of a shock to her casual fans, this has always been a passion of Lexy's she's ready to unleash.
In an recent feature with EDM.com, Lexy explained,
I put music on hold because I really wanted to come out with something that I liked and believed in.
She also has a music video performance for the single; it has over a million views.
LexTwerkOut classes are gaining more popularity as twerking becomes more evolved in the fitness world.
She has now taught thousands of women how to twerk.
Lexy is continuing to build her twerking brand every day.
But in 2016, expect to see her flex her vocal and performance skills on a whole new level.