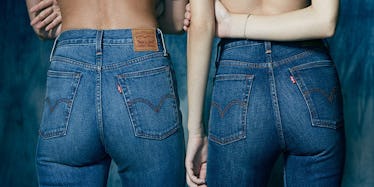 Levi's Launches 'Wedgie Fit' Jeans To Cater To Your Booty-Lifting Needs
Levi's
When you're, like, 8 years old, wedgies are something you give your friends in the school hallway for a laugh (just me? OK).
But now, in this wonderful year that is 2016, wedgies aren't something to be accidentally had, they're something to be bought. Allow me to explain.
Inspired by the legions of effortlessly ~cool~ chicks donning vintage Levi's 505's tight — like, booty-hugging tight — the famed denim company decided to release a line of "Wedgie Fit" jeans.
As per Jonathan Cheung, senior vice president of Levi's Global Design,
Just as the 501CT was inspired by girls wearing the 501 a little bit slouchy, the Wedgie is inspired by girls [who] were downsizing a vintage 505 and wearing it very close and almost vacuum-packed to the rear-ends — hence the affectionate and cheeky name. What's great about the vintage 505 is this flatness at the front, that holds your tummy in, and they are a little tight around the back.
The jeans, which also feature a button fly and cropped hem, will set you back $128 to $158.
Check 'em out on Kylie Jenner below, and save your pretty pennies, babies -- because showing off your booty just got a lot more expensive.
Citations: Wedgie Jeans Are Actually, Seriously a Thing Now (Cosmopolitan)