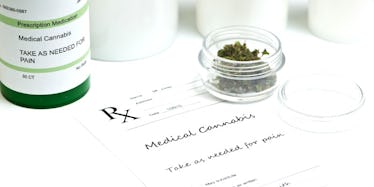 Here Are All The Ways To Legally Obtain Your Medical Marijuana Card Online
Shutterstock
Medical marijuana (MMJ) has been very real in America since California voters approved Proposition 215, The California Compassionate Use Act, in 1996.
Two decades later, Louisiana became the 25th state to employ some kind of MMJ program.
In the contemporary California "medical" marijuana space—a soon-to-be regulated, but otherwise seemingly recreational, free for all: Telehealth tech—or using our current digital skill set and toolbox to take care of our health, fitness, and medical needs—empowers licensed weed doctors to connect online with, and provide MMJ recommendations for, aspiring MMJ patients.
Oh yeah, and (sometimes) web-summoned weed can be delivered to your doorstep now, too.
With only a few states honoring the recs of their neighbors, that lack of reciprocity may result from the situation that what constitutes MMJ in Alaska isn't necessarily MMJ in California, or other states. Personal-possession limits and allowed methods of consumption vary from a single ounce of flower per patient to a non-psychoactive pill, like in Pennsylvania.
Sorting through the regulatory variations is where online recommendation services come in. If you're prepared to reveal your "ASL," here's how to link up with the digital weed doctor. Just be sure to check the terms of service, and utilize the services' live chat feature, to be sure it can connect patients with doctors in your area.
For the most part, the online rec services listed here won't be of much help if you intend to live and medicate outside of California.
PrestoDoctor
According to this digital recommendation provider, which services California MMJ patients, PrestoDoctor has,
...a wide network of California state-licensed medical professionals with active medical licenses available to offer appointments in as little as 30 minutes.
The startup recently introduced what it calls, "MMJ Treatment Plans."
PrestoDoctor co-founder Kyle Powers tells The KIND in an email that treatment plans feature "personalized information, created by a doctor to help patients understand the use of medical marijuana, to help manage their symptoms."
Powers says the PrestoDoctor service aspires to expand throughout the West Coast and into more medical-friendly states, as it grows and laws around weed and the Internet become less murky.
Meadow
This Bay Area-based cannabis-tech platform hopes to empower consumers and businesses at every level of the legal weed spectrum, from grower logistics to dispensary inventory.
The company's online recommendation appointment service, MeadowMD, connects aspiring California medical marijuana patients with accredited weed doctors, via its easy-to-use––even if you've already medicated hard––interface.
Earlier this year, Meadow received an investment from Reddit CEO and founder, Steve Huffman, and other mainstream tech players.
Eaze MD
Eaze MD, the recommendation arm of Eaze––another cannabis delivery service—offers recs, with no appointment needed, over its web and mobile app. Just as tele-health tech is relevant in the contemporary cannabis scene; so is vertical integration:
Once patients are legal, the company invites consumers to procure anxiety-crushing weed nugs via Eaze delivery.
Just make sure that weed delivery is legal in your city, at all, before hitting them up!
Nugg MD
Beginning to notice a pattern, here? The Los Angeles-based, weed delivery startup Nugg was founded by a group of frat bros at the University of Southern California.
The company says its online recommendation product, Nugg MD, works with doctors that have helped more than 100,000 patients since 2008.
Hello MD
A first-wave entrant into the online-recommendation-provider space, HelloMDco-founder Pamela Hadfield previously explained the Silicon Valley company's inspiration for joining the weed world to The KIND:
"If you have ever gotten your medical marijuana card at a traditional clinic, you know they are often not in nice parts of town, are usually clustered in larger cities, tend not to feel private, and the quality of care is often inconsistent. When we created HelloMD, we wanted to offer a convenient, affordable, private service that could reach people that might not otherwise have access to clinics."
The company bills itself as the "leading digital healthcare platform for the cannabis industry." It works with other "name-brand" cannabis providers in the space.
"Our service is currently only available to people located in California at the time of the consultation," a representative from HelloMD tells The KIND via chat.
If you live out of state, but are visiting California, you can have the appointment and use your out-of-state ID. We will mail your card to the address you provide, so long as you are in CA at the time of the consultation.
As the cannabis industry matures into a mainstream commoditizer, centered around a commercial and medical and sticky/terpy product––this already crowded space will only get more claustrophobic.
Thankfully, there will be no shortage of web-and-mobile-based white coats eager to recommend, or perhaps prescribe (#someday), a specific strain of weed believed to counter the anxiety of those closing-in, and highly competitive walls.
This post was originally written for The Kind.
Citations: All The Ways To (Legally) Obtain Your Medical Marijuana Rec Online (The Kind)