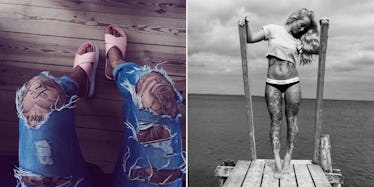 These 20 Badass Leg Tattoos Will Make You Forget All About Arm Sleeves (Photos)
instagram
I've always been a big fan of tattoos.
Tattoos are a beautiful form of self expression that basically turn you into a living, breathing work of art.
Not to mention, there's just something undeniably sexy about showing off some edgy ink on your skin.
If you thought the only place you could sport some sleeves was on your arms, you'll be glad to know there's a new trend sweeping over the tattoo scene.
Leg sleeves are on the rise and now lots of ladies are decking out their limbs in all sorts of beautiful, eye-catching leg tats.
Since we're such fans of these irresistible sleeves, we set out to find a bunch of badass women who aren't afraid to flex some seriously impressive ink from the thigh down.
Whether these gals are making a serious statement with a full sleeve, flashing some tasteful thigh tats or rocking half sleeves from the knee down, all of these leg tattoos look simply stunning.
Seriously, after seeing some of these amazing designs, you're probably going to want one yourself.
Forget arm sleeves.
There's a new tattoo craze...
...and leg tats are taking the ink scene by storm.
Now lots of ladies are transforming their limbs into beautiful works of body art...
...by sporting some incredible leg sleeve designs.
There's something seriously sexy about a girl who's not afraid to flash a little ink...
...and rock a beautiful, bold leg tattoo.
We've seen everything from bright floral sleeves...
...and legs clad in pretty lace patterns...
...to thigh tats that tell a story...
...fierce designs that rule the tattoo kingdom...
...and stunning sleeves that are simply to die for.
There are tons of ways to get in on this trend.
You can go for some edgy, eye-catching colors...
...or keep it simple with one shade.
Whether you deck out your entire leg in a dazzling design...
...tattoo just the top half...
...add some intricate artwork below the knee...
...or go all out and tat up both legs top to bottom...
...you're sure to turn some heads with these amazing leg sleeves tattoos.