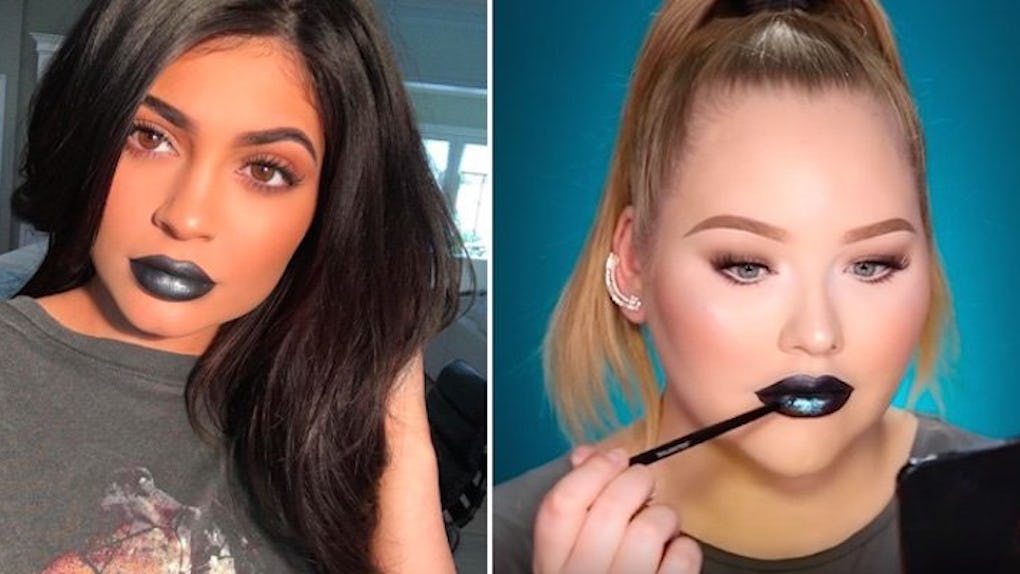 Youtube
This Beauty Vlogger Figured Out How To DIY Kylie Jenner's New Lip Kit Shade
It's no secret that Kylie Jenner is making a killing in the world of cosmetics.
Since her lip kits have quickly gained a cult-like following, it can be pretty hard to get your hands on some of her coveted cosmetics. Luckily, there's a bunch of substitute beauty products out there that look just as good as the real deal.
Remember when we showed you all of those Kylie Jenner Lip Kit copycats a while back?
Well, if you thought those lipstick dupes were pretty damn awesome, you'll be glad to know we're not the only ones obsessed with finding an alternative to those sold out lipsticks.
Yup, if you've been following Kylie's latest lip kit endeavors, you may have seen the latest addition to Kylie's collection of signature shades: a black, metal, matte lipstick called "Ky Majesty."
This bold color is set to go on sale today, but if there's one thing we can learn from her past releases, it's that this kit is probably going to sell out in a matter of minutes.
But don't worry if you're not lucky enough to score a tube of this new shade, you don't have to suffer from lip kit FOMO.
Nikkie, the beauty vlogger behind the Youtube series Nikkie Tutorials, just cracked the code on how to copy Kylie's stunning Majesty lip kit shade.
First, she applies a layer of OFRA Cosmetics' Long Lasting Liquid Lipstick in "The Bronx," then she adds some shimmer to her pout by applying some Dose of Colors Eyedeal Duo in "Stellar," followed by some Urban Decay's All Nighter Long-Lasting Makeup Setting Spray to keep it all in place. Then, she simply dabs some of MAC Cosmetics' Reflects Pigment in "Transparent Teal," and the lip kit look is complete.
Check out the video for a closer look at how you can recreate the DIY version of this Kylie-approved look on your own.
Citations: Here's how to get Kylie Jenner's latest Lip Kit shade (before it's released!) (Hello Giggles)