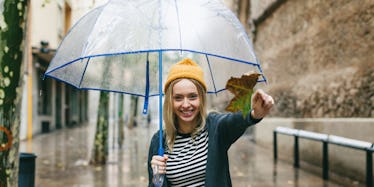 10 Ways To Keep Yourself Entertained On A Rare, Rainy Day In Los Angeles
Rainy days in LA may be rarer than steak tartare, but that doesn't mean we all lose our sh*t when weird, wet stuff starts falling from the sky.
Just kidding, that's exactly what happens. When it rains -- nay, when it drizzles -- in LA, city streets unravel into pure mayhem. People forget how to drive, accidents double and people shut themselves indoors for fear their perfect, contoured faces might actually melt away.
Basically, it's the closest we'll ever come to experiencing those wild, wild Gold Rush days.
Luckily, there are things you can do to help cope with the madness on a rainy day in Los Angeles. And they don't all involve hunkering down with a pint of Ben & Jerry's and Netflix (although that does sound magnificent).
Hit up a museum.
You probably don't know this because you're too busy lying on the beach every other beautiful weekend, but LA is home to some of the best museums in the country.
The Broad is fairly new in DTLA, featuring contemporary art and an Infinity Mirror Room in a super modern, super dope building. Did I mention admission is free?
There are tons of other ones to check out, too, including The Getty, the Hammer, LACMA, the Natural History Museum, the Museum of Death and soon, the Museum of Broken Relationships.
Alternatively, any place can be a museum if you're stoned enough. So get out there and go hog wild.
Put on every piece of winter clothing you own.
Because when else are you going to get the chance to use those Gucci galoshes?
Go to a popular bar.
It's true that nobody leaves the house when it rains in LA. Driving is taxing enough when it's gorgeous out, so when that first drop hits their windshields, people are like, "F*ck it."
That means some of LA's most popular bars are empty and ripe for exploiting. I'd recommend trying out Now Boarding if you're on the west side and The Short Stop if you're on the east side.
And if you're into D-list celebrity stalking, Lisa Vanderpump's Pump is definitely the way to go.
Stuff your face at SUGARFISH.
This sushi place is beyond delicious, and while there are a handful of locations scattered around LA, they're all poppin' seven days a week.
That being said, you can bank on nobody waiting outside in the "pouring" rain for their name to be called. On a rainy day, all you've got to do is show up, walk right in and pick your table.
Go to a comedy show.
Nothing warms your soul on a dreary day like having a good loff. UCB and iO West are good places to start if you're into sketch and improv. You can find good stand-up acts at the Laugh Factory and the Comedy Store.
Alternatively, if you're down for some really edgy, underground sh*t, check out the Clubhouse. It's sandwiched between a struggling Radio Shack and a Jons supermarket, so you know it's going to be good.
Harvest some water in your home aquifer.
It's always good to be prepared, you know, for the next 364 rainless days.
Find someone with a fireplace and curl up next to it.
You'd be surprised how many LA bungalows come equipped with real, working fireplaces. The majority of the time, though, it's too blistering hot outside to even think of firing one up.
The second it drops below 70 degrees, find a fireplace owner and offer a dozen tacos of his or her choosing in exchange for letting you bask in its warm glow. There has to be an app for that, right?
Eat ramen.
Rainy days (next to hungover days) are the only times you'll ever really feel like it.
Run outside and do a rain dance.
Because you should really be thanking the gods right now that it's raining at all in LA.
Just make sure those clouds are real rain clouds and not plumes of smog. You wouldn't want to go confusing the gods.
Lie on the floor and do literally nothing.
When it's sunny and beautiful outside, there's an inherent pressure to get out there and be active. Go hiking! Go biking! Go surfing! Go drinking!
Go do everything outdoors because it's so nice out you must be an ungrateful sloth of a person to waste a single moment of it!
How about you go from on top of the covers to under them and resist moving for 10 hours? It's raining out. You should live a little.