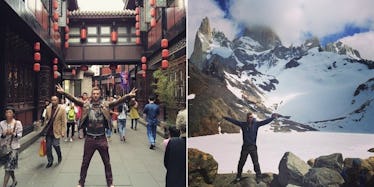 This Guy Made $1M Working From His Laptop And Traveling The World (Photos)
Many people dream about going on epic adventures around the world.
But not everyone has the financial means, or quite honestly, the balls to pack a suitcase and leave everything behind.
However, Johnny Ward, a 31-year-old guy from Northern Ireland, never let either of these things hold him back from pursuing his goal to visit all 193 countries across the globe.
Over the past three years, Ward visited over 152 countries and managed to score a smoking hot girlfriend, all while earning a million dollars by working from his laptop as he travels.
Yeah I know, it's pretty hard not to be insanely jealous of this dude.
So how does he manage to live the ultimate wanderlust lifestyle?
Despite having little tech experience, Ward created a travel blog called OneStep4Ward, which he eventually grew into an entire media company, Step4Ward Media, that manages a few hundred sites.
Since Ward makes his living by working remotely from his laptop, he is able to embrace his spirit of adventure and share all sorts of incredible experiences with his beautiful girlfriend as they travel the globe.
Take a look at the pictures below to learn more about Ward's incredible journey.
Meet Johnny Ward.
This 31-year-old never let money stop him from seeing the world.
And over the past three years, he managed to visit over 150 countries as he earned a million dollars by simply working from his laptop.
After graduating from college in 2006, he worked at a summer camp for special needs children and managed to save enough money to buy a one-way ticket to Thailand, where he planned to teach English.
Shortly after, he created a travel blog, OneStep4Ward, to earn some income during his explorations.
He was able to grow his operations into an entire media company, Step4Ward Media...
...and according to Ward, he's made between $9,340 per month to $62,300 per month, and he averages out around $935 each day.
If that's not enough to make you jealous, Ward also found a gorgeous girlfriend, a flight attendant in Thailand, during his travels.
Ward's job gives him a lot of flexibility, so instead of sitting behind a desk all day, he spends his days jetting off to exotic destinations and exploring foreign lands.
In an interview with the Daily Mail, Ward revealed, "I grew up in a single-parent family in Northern Ireland and we didn't have much money... sometimes I can't believe this is my real life."
So far, he's done some amazing things, like play with pandas in China...
Cliff dive in the Caribbean...
Backpack through Patagonia...
Make some new friends in Machu Picchu...
Monkey around in Madagascar...
...and explore new places with his girlfriend by his side.
Ward wants to cross every country off of his bucket list by the end of next summer and has no plans to end his travels endeavors after finally reaching his globetrotting goals.
Citations: Traveller 31 Earns $1Millon And Finds A Glamorous Girlfriend While Exploring The World In Style (Daily Mail)