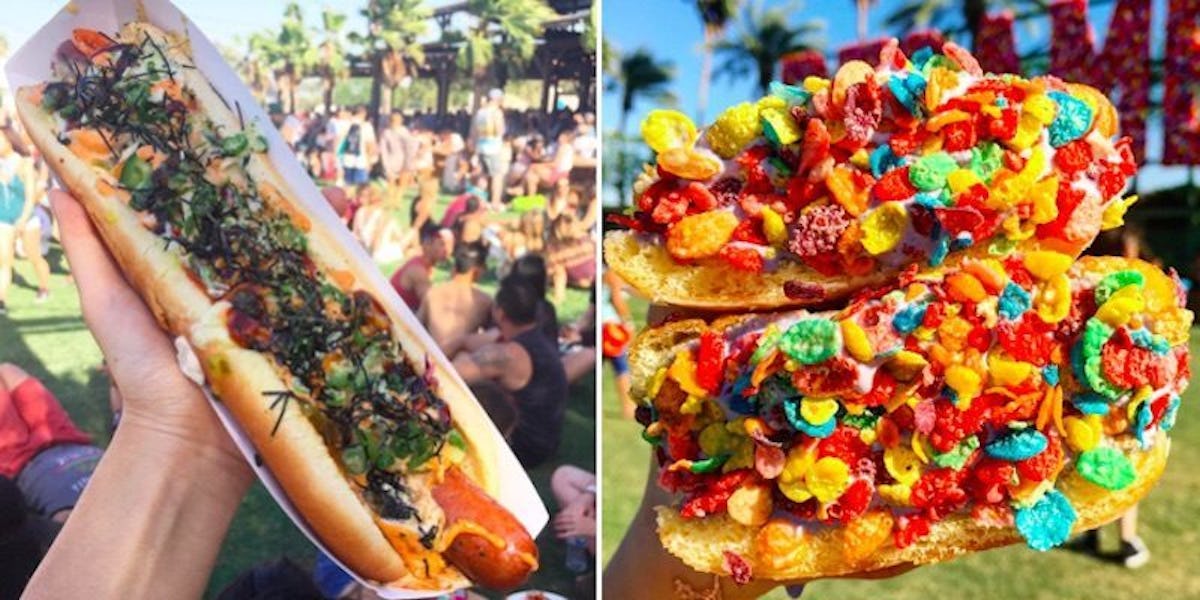 These Photos Of The Insane Food At Coachella Will Make You So F*cking Hungry
Week one of Coachella just came to a close.
So, if you're one of the unlucky ones who couldn't make it out to the desert for this dreamy occasion, you probably spent the majority of your weekend like the rest of us east coasters -- enviously ogling over everyone's 'Chella pics on Instagram and living vicariously through your flower crown Snapchat filter, of course.
I mean, sure, those ethereal #OOTDs and insane party scenes are enough to make anyone insanely jealous.
But, if you love stuffing your face with food just as much as you love throwing flowers and prancing around La La Land with a giant unicorn floaty, you might want to look away. You're about to get a killer case of festival foodie FOMO.
Yep, when it comes to finding vendors that serve up some seriously impressive snacks, Coachella is one festival that doesn't f*ck around.
Throughout the weekend we saw tons of hungry hippies showing off a variety of food-porn pics on social media, and trust me, some of these treats look so damn good, they'll bring tears to your eyes.
Check out the pictures below for a closer look at these amazing eats from Coachella.
There's no denying Coachella has a seriously strong snack game.
So far, we've seen all sorts of cool confections...
Like these crazy cereal and Cookie Monster buns...
This rad mac and rib grilled cheese...
These tantalizing tacos...
This heavenly hotdog...
This fabulous Fresno Fig Burger...
...and these sweet squad goals.
Maybe this is a bit forward, but I want to be jalapeño cheesy tots.
Monster Fries before guys.
I mean, seriously, just look at this tasty twosome...
This stunning Sriracha tuna Poké bowl...
This Tempura Fried Chicken Sandwich...
This beautiful slice of Buffalo Bacon Pizza...
This glorious combo of chilaquiles, bacon, cheese and guac...
These red bun cheeseburgers stuffed with mozzarella sticks, bacon and fried eggs...
...and these mesmerizing meatball subs.
Well, hello there, nice to meat you.
Who needs friends when you have fries like these?
Yep, you definitely doughnut want to miss out on these insane treats.