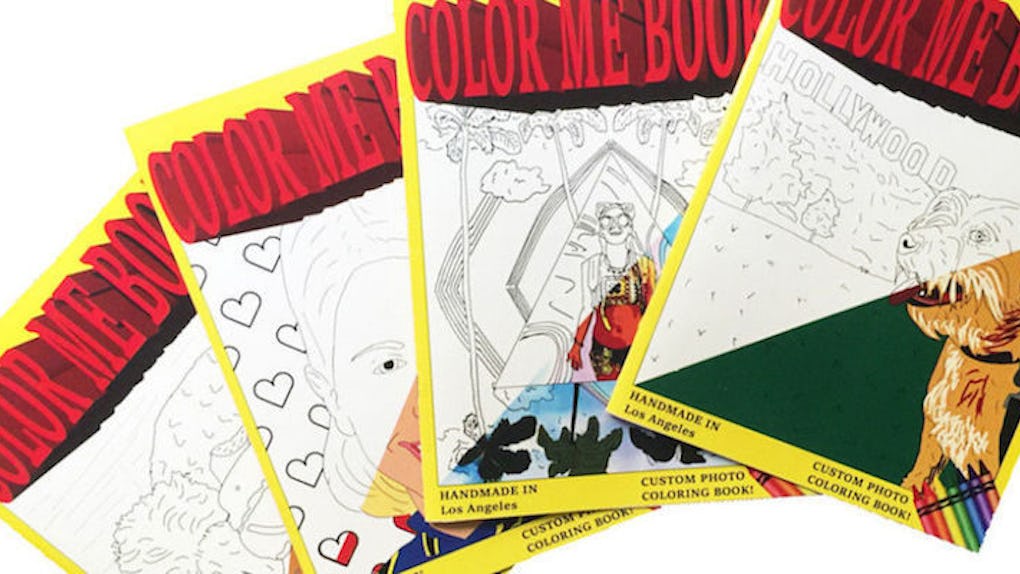 Color Me Book
You Can Now Turn Your Favorite Instagram Posts Into An Adult Coloring Book
You're never too old to whip out a coloring book, grab some crayons and bring a few blank pages to life.
If you ask me, coloring books are great ways to chill out while you tap into your creative side.
Remember when we showed you those hilarious swearing coloring books for adults? Well, if you thought coloring in those cursive letters was pretty damn fun, just wait until you see the latest coloring book craze.
There's a new company called Color Me Book that allows you to convert your Instagram pictures into an epic adult coloring book!
That's right. For just $25, Color Me Book will transform all of your beloved pet selfies, brunch #foodporn and vacay pics into basic line drawings that come in an awesome personalized book.
Cory Will, the mastermind behind this glorious concept, told BuzzFeed,
I thought it would be awesome to upload photos and make my own personalized adult coloring book. I was shocked I couldn't find it anywhere, so I reached out to a friend who runs a print shop in Los Angeles to see if he could make them for me. When I showed some friends, they wanted to order their own. So I decided to build a website to see what kind of response we would get.
Check out the pictures below for a closer look at these badass custom coloring books!
Thanks to the Los Angeles-based company Color Me Book...
You can now ditch those kiddie cartoon-filled coloring books...
...for a custom coloring book featuring your very own Instagram photos!
Yep, for $25, Color Me Book will convert all of your selfies with Bae, brunch tablescapes and #OOTD pics into a personalized book filled with basic line drawings of your beloved Insta-worthy images.
Company founder Cory Will said, "Color Me Book was started in our living room in Los Angeles while my fiancé and I were coloring with our new set of colored pencils."
He continued, "I was trying to draw my dogs, Briggs and Harlan, in their cuddle position but they would not stay still. That's when a lightbulb went off, and I decided to snap a photo and turn it into a coloring book page."
If you're looking to get your hands on one of these bad boys, all you have to do is upload five photos from Instagram, and Color Me Book will hand trace your photos into perfect blank coloring pages.
If your Insta game isn't up to par, don't worry. The company also offers books with pre-made designs that sell for $15 each.
Seriously, thanks to these incredible books, coloring will never be the same.
Citations: This Company Turns Your Instagram Posts Into Coloring Book Pages (Cosmopolitan)