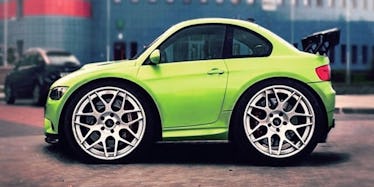 This Instagram Account Recreates Your Favorite Cars As Hilarious Caricatures
Instagram
You just never know what you're going to come across when scrolling through your Instagram feed.
One minute, you're scrolling passed mouthwatering food art, and the next, you're learning about a brave guy who quit his job to kayak the world with this dog. This time, it's all about the car art crafted by Instagram user MimiCars.
The Russian artist recreates your favorite cars as hilarious, miniature versions of themselves. If you love cars and love caricature art, you might want to follow this account for a little extra creativity on your Instagram feed!
From BMWs and Audis, to Porsches and Range Rovers, it's all here.
Now, what remains a mystery is exactly how this artist goes about shrinking these street machines down in size but I'll go ahead and guess it's all thanks to a couple of Photoshop tricks and a little elbow grease.
Check out the photos below for a closer look!
BMW M3
Jaguar F-Type
Mercedes-Benz SL Roadster
Porsche Cayenne
Range Rover
Audi Q5
Nissan GT-R
Volkswagen GTI
Audi A8
Dodge Challenger
Porsche Panamera
Check out more car caricatures by following @MimiCars on Instagram!