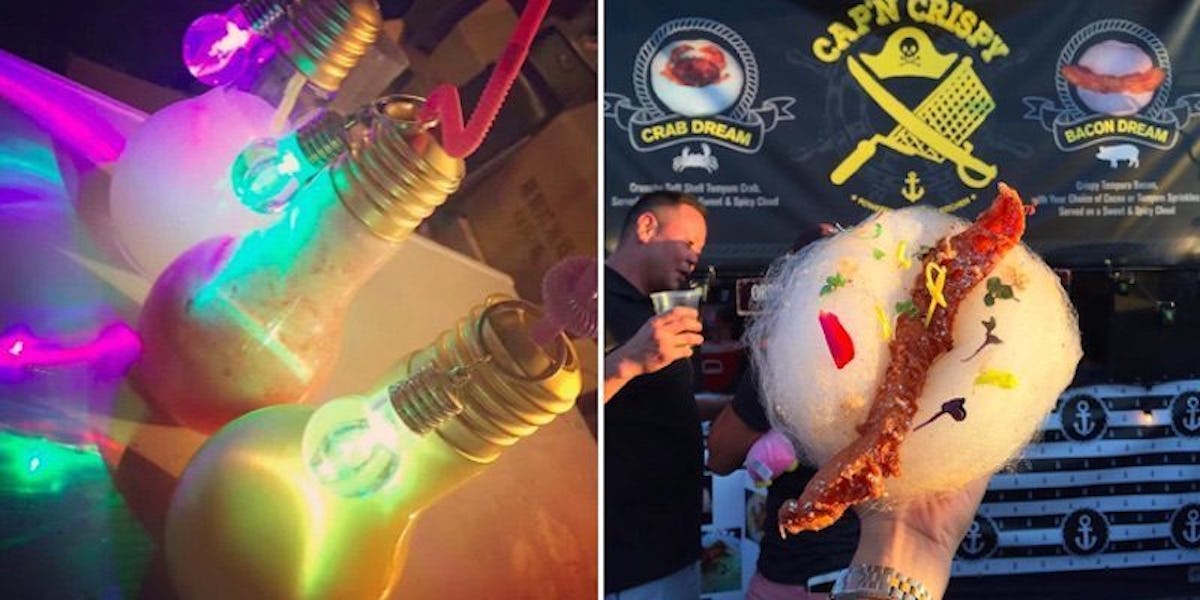 This Food Festival Has The Most Insane Eats, Including A Penis-Shaped Cake
If there's one thing we can all learn from the movie "Superbad," it's that dick-shaped food is always the best kind of food.
Case in point: The NSFW sweets being served up by Yummy Hero at the steamy 626 Night Market in California.
Yep, if you're looking to indulge with the D, this dessert vendor actually makes penis-shaped cakes called D-Cake that even come with a squirt of white icing for delicious authenticity.
If cocky confections aren't the type of food porn you're lusting after, don't worry. This insane food market is pretty much a hipster food paradise filled with an endless array of mouthwatering eats that are anything but mainstream.
Yep, from Fruity Pebble-clad churro sundaes and rainbow grilled cheese to bacon wrapped in fairy floss and drinks served in lightbulbs, this glorious food festival has all sorts of snacks guaranteed to give you all the feels.
Check out the pictures below to see some of the amazing frankenfood creations at this food festival.
If you're in the mood to get a little frisky with your food...
...you'll be glad to know the 626 Night Market is packing some well-endowed eats that will definitely make you want the D.
D as in Dessert, that is.
Yep, there's a vendor called Yummy Hero on a mission to refine the meaning of food porn...
...by serving penis-shaped cakes finished off with a squirt of white icing.
If you're looking to put some other dick-shaped foods in your mouth, this food market also has swirly potato sticks...
Sundaes that come with a pair of Fruity Pebble-covered churros...
...and smokin' balls of cereal.
If weird hipster food is the way to your heart...
...grab a cotton candy churro ice cream sandwich.
You can score rainbow grilled cheese guaranteed to give you all the feels...
Cotton candy that looks like a Captain America shield...
...or a sea urchin bowl that can poke your eye out.
What about an adorable cup of Lazy Bear Curry...
...or an over-the-top drink that doubles as a five-course meal?
This place also has purple ube cookie shots...
Tempura bacon covered in savory fairy floss...
Glowing jars of lychee lemonade...
...and some lit drinks served in lightbulbs. Because... hipsters.