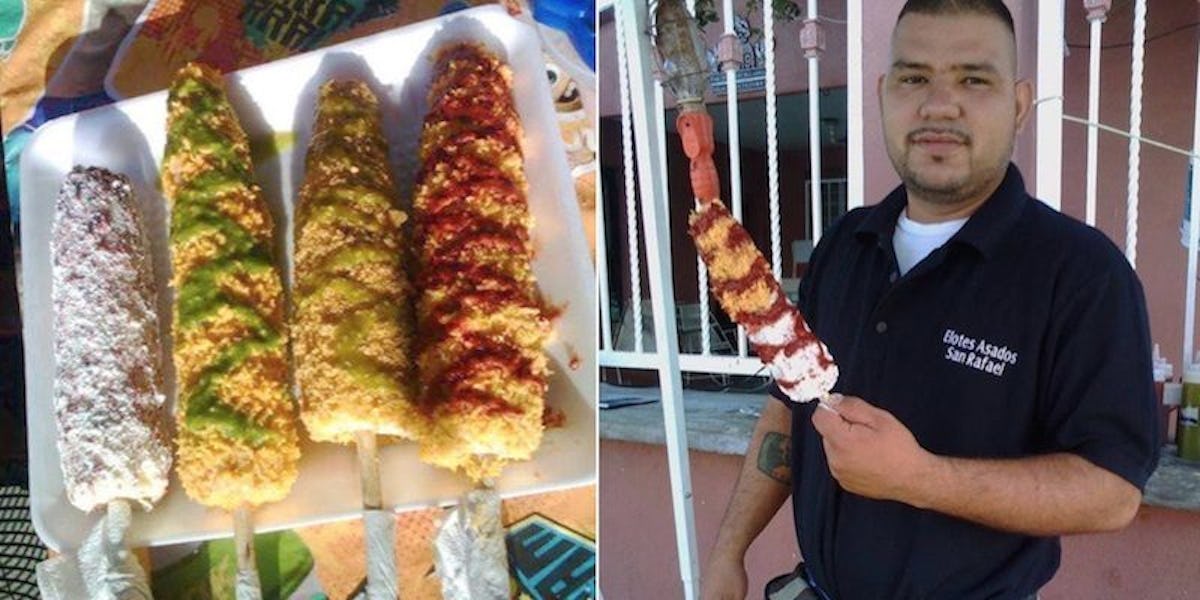 Insane Corn On The Cob Covered In Delicious Toppings Looks Incredible (Photos)
If you're not a big fan of eating your vegetables, you're about to have a change of heart.
There's a food stand in Nuevo Laredo, Mexico called Elotes Asados San Rafael that just took corn to a whole new level.
Yes, corn.
Lately, the lines for Elotes Asados San Rafael have been insanely long, and it seems like practically everyone in Mexico is losing his or her damn mind over these delectable cobs of corn.
But then again, you can't really blame people for going crazy. This vendor isn't dishing out the typical, boring ears of plain yellow corn.
Oh, no. These bad boys are roasted to perfection and then smothered in all sorts of tasty sauces and toppings. Yeah, they're basically heaven on sticks.
Take a look at the pictures below to get a glimpse of these irresistible cobs of corn.
Meet Alberto González, the evil genius behind Mexico's newest food obsession, Elotes Asados San Rafael.
Lately, it seems like people just can't get enough of his creations...
...but that shouldn't be too surprising since this place makes the most amazing corn known to man.
Each ear of corn is roasted, slathered in sauce and rolled in all sorts of tasty toppings.
González and his team crank out 200 to 300 beautiful cobs a day...
...and all of the flavors look insanely delicious.
Just look at this irresistible ear on a stick...
This mouthwatering chipotle-dipped masterpiece covered in cheese...
This corn covered in heavenly cheese and roast beef...
...and this saucy, red-hot snack.
Seriously, who knew corn could look so damn good?
If corn on the cob isn't really your thing, you can even get all these incredible corn combos in cups.
Citations: People Are Freaking Out Over This Guy's Absolutely Amazing-Looking Corn On The Cob (BuzzFeed)