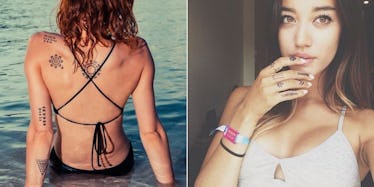 These 2-Week Tattoos Are Perfect For People Too Scared For Real Ink (Photos)
Getting a tattoo is a big commitment that comes with unfortunate consequences if you don't choose wisely.
There's nothing worse than picking the wrong design and permanently marking your skin with a tat you end up hating several years down the road.
When I was a senior in high school, I regrettably stamped a pink bow onto my lower back. So, trust me, I know from experience.
The innovative company, inkbox, just invented an organic temporary tattoo formula that lets you fake some ink for up to 15 days.
So now, you can rock some realistic ink that doesn't come with post-tat remorse or require you to get stabbed with needles repeatedly.
Yeah, it sounds pretty damn good if you ask me.
These temporary tattoos contain ink made from Genipa americana fruit, which dyes the top layer of your skin black over a 12-hour time period and lasts for a few weeks before fading into oblivion.
In a way, these things are like badass, black versions of henna; it's the perfect way to have a little fun or test out a tat before upgrading to something permanent.
Inbox currently has a Kickstarter campaign that has raised over $50,000. If the company reaches its goal of $100,000, you'll be able to order your own custom tattoos.
Thanks to inkbox, you can now flaunt "The 2 Week Tattoo."
It looks just like the real deal, without the pain or regret.
The secret to these innovative tats lies within the ink.
It's a special formulation made with Genipa americana fruit, which will dye the top layer of your skin black for 12 to 15 days.
There are tons of custom awesome tats you can choose from.
You can deck your digits out in geometric designs...
Add some ink to your festival fashion...
Opt for a tat that's out of this world...
Add a fancy pattern to your foot...
Put a bold mark right under your boobs...
Try a partial sleeve on for size...
Stamp your favorite city on your leg...
Add a splash of wavy ink to your skin...
...or look extra fly with a feather on your forearm.
The temporary tattoo possibilities are pretty much endless.
Check out the video for a closer look at inkbox's awesome, non-permanent tattoos.
Citations: These Organic Tattoos Look Real but Disappear After 2 Weeks (POPSUGAR)