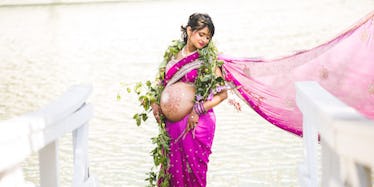 These Indian-Inspired Maternity Photos Are Nothing Short Of Gorgeous
When wedding blogger Preeti Moberg learned she was pregnant, she wanted to tell people her way: Through a celebratory blog post centered around an artistic, personalized maternity photoshoot.
As the co-founder of The Big Fat Indian Wedding, a blog that specializes in documenting (and providing inspiration for) traditional Indian wedding ceremonies, Preeti already had some idea of the direction she wanted the maternity shoot to go in.
In her blog post introducing the beautiful series, Preeti writes,
A couple of months ago I had a little baby boy. But before this adorable troublemaker showed up on Earth, I wanted to do a maternity shoot that was something special. A maternity shoot that showed the glitter and culture of India, but also a photo shoot that was more than the classical whimsical… I wanted to see fine art meets maternity while maintaining the joys part of being pregnant [and] happy.
The mommy-to-be scoured Pinterest and Google for inspiration and rounded up a crew of talented women to help create her dream shoot.
After a ton of planning and prep, the group got to work, with photographer Shhivika Chauhan at the the helm of the project.
As you'll see below, the shoot turned out beautifully — more so, perhaps, than anyone could have imagined. Ladies: The bar has officially been raised.
Preeti says she "spent a lot of time on Pinterest and Google Images for inspiration" for the maternity shoot.
When she realized that there were very few photographs of pregnant Indian women to be found...
She realized that she wanted to make her culture the primary theme of the shoot.
A wedding blogger by trade, Preeti had dozens of professional contacts that she called on for help.
Party planning company Creative Collaborations styled the maternity shoot...
Blogger Bindis & Bottles handled the traditional clothing and jewelry...
And Henna Lounge created the intricate body art, including this gorgeous henna mandala painted on Pretti's pregnant belly.
Preeti's husband even posed for several of the beautiful photographs.
Which proved the perfect setting for the shoot's exotic vibe.
Preeti looked nothing short of stunning, and the shoot turned out exactly as she'd hoped.
Read about the maternity shoot and see more of Shhivika Chauhan's gorgeous photographs at The Big Fat Indian Wedding.
Citations: AN INDIAN INSPIRED MATERNITY PHOTO SHOOT (The Big Fat Indian Wedding)