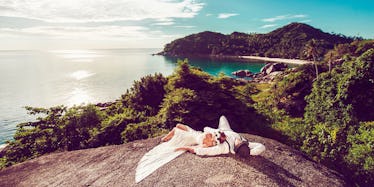 These Incredible Honeymoon Destinations Will Satisfy Your Inner Wanderlust
Shutterstock
Planning a honeymoon is something every couple should give a lot of thought to. After all, it is the perfect time to reflect on the amazing wedding that you just slayed, and to kick off your first exciting chapter as a married couple.
Each new marriage deserves a truly special start … and there are so many epic destinations to consider for your honeymoon. After all, this unique getaway is all about you. It's time to keep the fun and festivities going and there are ideas below for every couple's unique taste.
Here are 11 spectacular options to give you some post-wedding inspiration.
Fancy an incredible overwater bungalow? Pack your bathing suits and shades, and head to Bora Bora.
Sail over to Catalina Island for a paradise vacation you'll never forget.
Swim and snorkel with the fish in the Indian Ocean, enjoying everything the Maldives has to offer.
Drink some bubbles and go on a hike in Fiji's beautiful Bouma National Park.
Get your wine on at Venetsanos Winery in gorgeous Santorini.
Why not try a tubing excursion through the Branch River Caves in Belize?
Take a tour of the opulent Grand Palace in Thailand, and then hit up their breathtaking beaches.
Who wouldn't be awestruck by the scenery of the exquisite French Riviera? Flower markets, yachts and boutiques await.
What better place to bring on the adventure than New Zealand? Kayaking, rafting, windsurfing and more are calling your name. Or maybe, you'd like to visit "The Shire" if you're a "Lord Of The Rings" fanatic.
Go glacier and deep snow skiing in Austria with all of the royals. This is a perfect spot to go tobogganing, alpine curling, hit up awesome ski bars and cuddle up with your hunny in a horse-drawn sleigh.
For the thrill-seeking couple, plan paragliding, sandboarding at the dunes, or a safari in South Africa, a soon-to-be "adventure capital of the world."