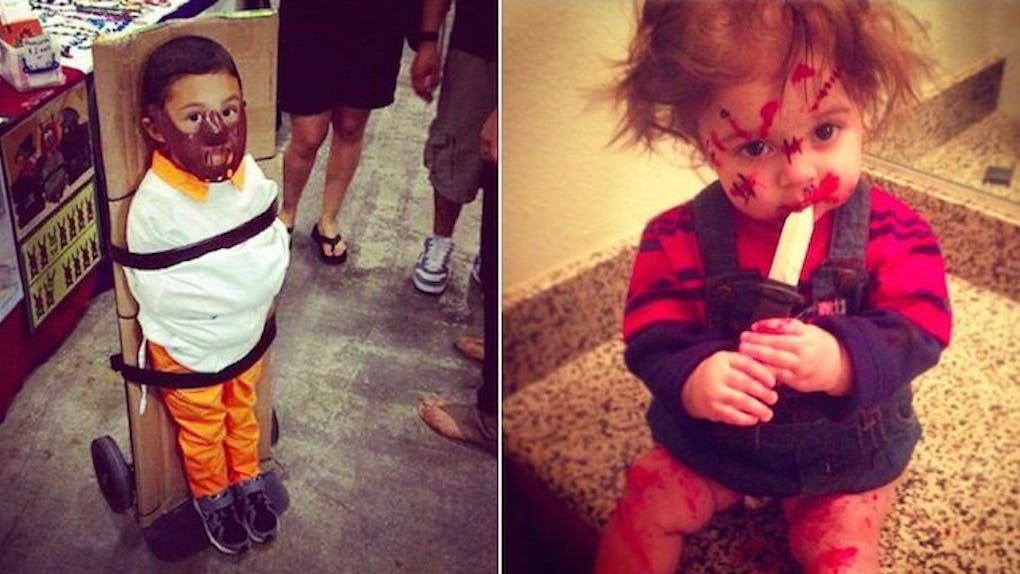 Instagram
20 Inappropriate Kids Costumes Guaranteed To Make Halloween Memorable (Photos)
As a kid, I loved dressing up for Halloween.
However, my parents never really put too much creative effort into my costumes, so I spent most of my childhood trick-or-treating as a ridiculous-looking pumpkin or a basic-bitch ladybug.
Yeah, not very exciting.
There are two ends to the parenting spectrum when it comes to celebrating Halloween.
On one, there are the parents who don't really give a f*ck about Halloween and just turn their kid into a ghost by cutting two holes through a sheet and calling it a day.
Then there are the parents who get way too into the spooky spirit and use their sick sense of humor to come up with a unique, not to mention disturbing, costume.
I prefer the latter of the two because, let's face it, there's nothing funnier than a baby doing inappropriate sh*t.
Whether these kids are channeling their inner Cheech and Chong, pretending to be meth dealers, impersonating a pimp or running around with a terrifyingly realistic knife, these costumes are guaranteed to make you laugh (and probably question their mom and dad's parenting abilities).
Take a look at the pictures below to see these hilarious kid costumes.
Baby Hitler
Whiskey and Cigarettes
Sperm
Baby Stripper
Lieutenant Dan
Lil' Riff Raff
Chuckie
Trojan
Dead Chicken
Dressing up my kids in the cutest Halloween costumes #MyFallTraditions pic.twitter.com/juq0Gt5xQy — Gianfranco (@giannyboy) September 11, 2015
"Breaking Bad"
Hannibal Lecter
Jack and Coke
Stereotypical Sushi
Cheech and Chong
Knights Riding Horses Giant Dicks
Princess Heisenberg
Pimp Baby
Club Promoter
Homeless Baby
Uhhh...
This one is really funny. To think of all the costumes my mum came up with for my fancy dress stuff at school. pic.twitter.com/52AWvml6Gz — Annapurani (@annapurani93) September 26, 2015