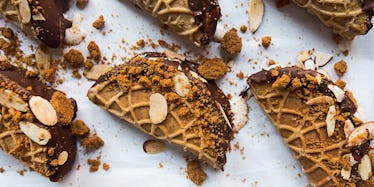 Here's How To Make Homemade Choco Taco Ice Cream Just In Time For Summer
Tasting Table
When the siren call of the ice cream truck wafts through the summer air in the neighborhood, what's your go-to choice? A classic Drumstick? A a tricolored rocket pop? Maybe it's a timeless chocolate ice cream sandwich?
For us, the choice is always pretty simple: a nutty, fudge-filled chocolate taco, of course.
We make our buttery, crunchy shell in a pizzelle maker, which is easy to use and totally worth the investment, if only to fill your summer with these homemade ice cream tacos.
The best part of making these classic summertime treats from scratch? You can make the custom ice cream taco of your wildest dreams.
All you have to do is choose your favorite flavor of ice cream. Once dipped into the chocolate coating, simply add some of your favorite toppings. But we must implore that you try our combo of toasted almonds and crushed speculoos cookies. It's a really good place to start, and trust me, you won't be disappointed.
Watch the video for a closer look at how it's done, and check out Tasting Table for more awesome recipes.