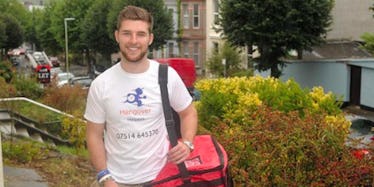 Genius Service Delivers Fast Food To Hungover College Students' Doors
Hungover, useless and immobile -- we've all been there.
There's nothing worse than being hungover while you're away at college.
Once you leave home, you no longer possess the ability to waltz right into your kitchen and stuff your face before returning right back to bed on a brutal hangover day.
The way your living situation is set up at college, you'd have to somehow muster up the courage and energy to go out and grab yourself a solid meal.
That's way easier said than done. As a matter of fact, it's almost impossible.
That's why we're glad to hear a Plymouth University student named George Galbraith came up with the genius idea to start a fast food delivery service on his campus. It's called Hangover Helpers. Clever, right?!
Galbraith's service is special. Hangover Helpers delivers fast food from establishments that don't typically deliver.
This means hungover students at the university in England can obtain the unobtainable.
According to UNILAD, students favor using the service to get food from fast food chains like McDonald's and KFC. Hey, after all, a little fast food couldn't possibly do more damage to you than all of that drinking you did the night before!
A student at Plymouth University in England came up with a genius way to help brutal hangovers.
George Galbraith created Hangover Helpers, a service delivering fast food to hungover students at the university.
Imagine being able to order food from places that don't deliver without having to leave your bed...I'm sure our brilliant scholars stateside would love similar services on their campuses!
Citations: New Hangover Delivery Service Brings McDonald's And KFC To Your Door (UNILAD)