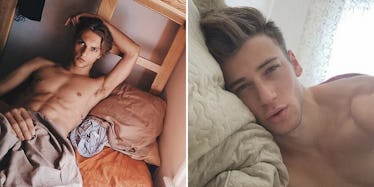 These 'Hot Dudes In Beds' Will Make Getting Up That Much Harder (Photos)
Instagram
If you've been looking for some Internet eye candy to sweeten up your day, you've come to the right place.
We recently stumbled across a new group of handsome fellas on Instagram and let me tell you, these dudes are literally a dream come true.
Behold, Hot Dudes In Bed.
That's right. Someone just answered all of your pillow-talk prayers by creating a steamy Instagram account featuring all sorts of smokin' hot sleepyheads who aren't afraid to hit the snooze button and stay in bed all day.
Seriously, who knew getting some shuteye could look so damn irresistible?
Whether these dudes are snuggling with their dogs, wrapping themselves up like a blanket bae-rrito or showing off their muscles as they sleep in the nude, they clearly don't mess around when it comes to getting their beauty rest.
Take a look at the pictures below to see these gorgeous sleepy studs.
Say "hello" to the heavenly Hot Dudes In Beds.
These lazy fellas love lounging around...
...and they might just be the hottest thing that ever happened to bedtime.
No girl can resist breakfast in bed with an extra side of eye candy.
Hey girl, wanna snuggle?
These sleepyhead hunks will have you head over heels in love.
There's something undeniably sexy about a man who's not afraid to hit the snooze button.
What time is your alarm set for? Sexy o'clock?
These dreamy dudes get plenty of beauty rest, so you know they actually #WokeUpLikeThis...
...and they'll definitely have you drooling all over your pillow.
Hot Dudes In Beds has a drowsy dude to make everyone's dreams come true...
...whether you prefer to catch some Zs with a quick cat nap...
...get cozy under the comforter...
...show a little skin on top of the sheets...
...or just sleep in the nude, of course.
I'd fluff your pillows any day, babe.