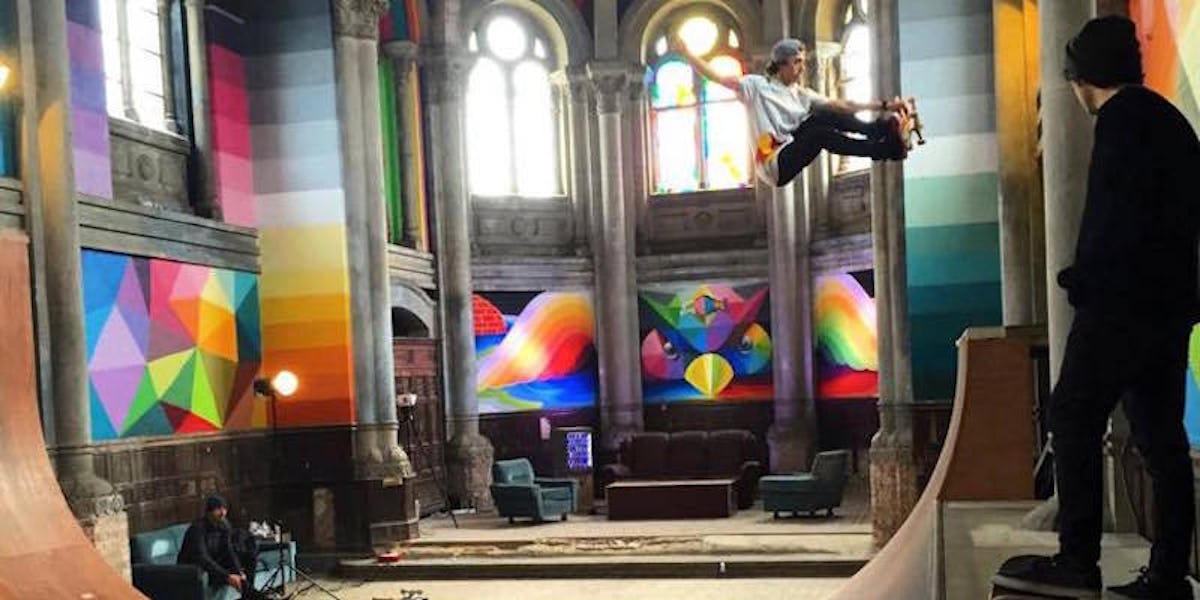 Artist Transforms Historic Church Into Epic, Graffiti-Filled Skate Park (Photos)
When it comes to street art, the possibilities are endless.
A Spanish artist recently proved this when he helped transform a 100-year-old church into a functional skate park.
This isn't just any old skate park, though. The walls are inked with some of the most vibrant graffiti you'll ever see!
According to Bored Panda, street artist Okuda San Miguel was able to revitalize a sacred place and transform it into an action-packed environment for daring thrill seekers.
If that's not proof street art has endless potential, I'm not sure what is.
Check out the photos below for a closer look!
At first sight, this just looks like a regular church.
But if you take a look inside, you won't find pews and podiums. Instead, you'll find a vibrant skate park!
In collaboration with Red Bull, Okuda San Miguel transformed a 100-year-old church into an incredible place to skate.
It's called Kaos Temple, and it's located in Llanera, Spain.
It was originally transformed from a church into a skate park by La Iglesia Skate before Okuda put his final, colorful touches on it.
Everything -- from the walls to the ceilings -- is covered in graffiti.
If you're ever in Llanera, you're going to want to put this at the top of your list of sights to see!
Citations: A 100-Year-Old Church Transformed Into A Skate Park Painted With Colorful Graffiti (Bored Panda)