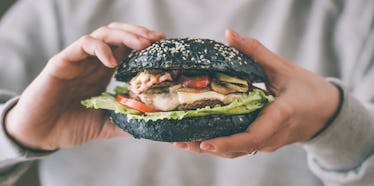 30 Photos That Prove Hipsters Are Trying To Ruin Our Favorite Foods
Shutterstock
I was recently scrolling through social media when something seriously disturbing caught my eye.
It was a photo of guacamole that had been tainted with Brussels sprouts and served in a mason jar. It was terrifying.
If there's one thing we can learn from this guac tragedy, it's hipsters are on a mission to ruin all our favorite foods with their raw, vegan, organic, cold-brewed, locally-sourced shenanigans.
Don't get me wrong, I'm all about eating healthy meals.
However, I don't feel the need to buy cruelty-free toilet paper from the farmer's market, eat brunch off a wooden board or tweet about how much I pretend to love kale smoothies 10 times a day.
Yep, it's all fun and games until someone wearing a flannel shirt and a fedora f*cks with your food.
We decided to set out and find some heinous culinary crimes that prove hipsters have gone way too far when it comes to food.
Check out the picture below to see proof that nothing is safe.
Hipsters are on a mission to ruin our favorite meals.
Mason jars were just the beginning...
i am a filthy hipster who must be stopped #smoothie #hipster #masonjar #food #summer by northerndownqour pic.twitter.com/HBVa5Jfs0f — DeezaSun (@DeezaSunglasses) March 10, 2016
...and these terrifying alternative eats must be stopped.
Just look at these pretentious "veganic" Cheerios…
These grapes that definitely only buy vinyl albums...
My grapes are so hipster. They only eat vegan food and listen to bands no one has ever heard of. pic.twitter.com/Owc0qedQQm — Hope Erwin (@HopeDanae) March 9, 2016
This sushi made out of SPAM…
Last meal before moving into the hospital. Hitting the local Hawaiian restaurant for some spam sushipic.twitter.com/PyDZ6QdUTF — Pediatric RN (@oRdiNary_hero4) January 22, 2016
This cone that doesn't want to conform to the norms of society…
Lumberjack Hipsters have gone too far. via @neatorama http://t.co/geRAxSo6il pic.twitter.com/EZuFzoGZNd — Gotham_Knowledge (@GothamKnowledge) September 25, 2014
These tomatoes that want to be the coolest vegetable in your salad…
This burger that just wants to be different...
This crime against Mexican cuisine…
This dessert served inside a f*cking lightbulb…
...and this apple juice filled with basil seed. BASIL SEED!
Hipster Doritos? Not Kool.
I guess Kale-mole wasn't bad enough.
Every single photo I've seen of #Brusselmole has a really creased paper sleeve. Is this deliberate @marksandspencer? pic.twitter.com/YRf6FhoLZB — Ronnie Joice (@ronniejoice) December 30, 2015
How did the hipster burn his tongue? He drank his pumpkin seed milk coffee before it was cool.
"We don't have almond milk, we've replaced it with pumpkin seed milk." Oooooookay, hipster coffee place. — Martha Mihalick (@MarthaMihalick) April 22, 2016
Those darn artisan bottles will get you every time.
Poured myself a glass of bourbon... realized it was artisan maple syrup. Damn you hipsters. #oopsididitagain pic.twitter.com/JGDzJt1SNF — Zac Young (@zacayoung) April 14, 2016
OK, I've heard of ordering your meal with the sauce on the side, but this deconstructed spaghetti Bolognese is a bit much.
You're going to love this: DECONSTRUCTED SPAG BOL, La Folie Douce, Val d'isere, €29 (@WeWantPlates) pic.twitter.com/81icv1VyEn — Ed Smith (@rocketandsquash) March 17, 2016
What happened to the good ol' days when you could buy normal water?
And bread that wasn't having a hipster identity crisis?
No. Just... no.
Seriously, who knew chips grew on trees?
"Can we have some chips and dips to start, please?" "Of course, madam." *chainsaw buzzes* (Pic: @RachaelHasIdeas) pic.twitter.com/njzEfOuifC — We Want Plates (@WeWantPlates) October 6, 2015
Apparently, Prosecco tastes better when it's chilled in a rain boot.
"Prosecco?" "I'm driving." "You walked!" "I'm allergic." "You love Prosecco." *runs away* (Pic: @kittyroeactress) pic.twitter.com/1bBnCgLO86 — We Want Plates (@WeWantPlates) October 7, 2015
Hipster tears are the hottest new craft beer!
There's nothing like shoveling your breakfast into your mouth...
...or going to a restaurant that gives you a treasure map instead of a menu.
@WeWantPlates a Treasure Chest of wings?? Really?? pic.twitter.com/AfWE6uKNCR — Ben Rogers (@rogersbenj) August 12, 2015
Salad served in a rabbit food bowl. How ironic.
See what they did there? (Pic: @FTomaschiwskyj) pic.twitter.com/JlJuhvCz3w — We Want Plates (@WeWantPlates) December 13, 2015
When did chlorophyll become a flavor?
Organic street meat? Now I've seen it all.
This just proves nothing is safe from hipster shenanigans....
...not even gerbil food.
@Mezandy @LyndonMarquis @ilovewestleeds it's gerbil "muesli", which i think is food for hipster gerbils. pic.twitter.com/fSatGVRgv7 — rich (@them_apples) March 15, 2016