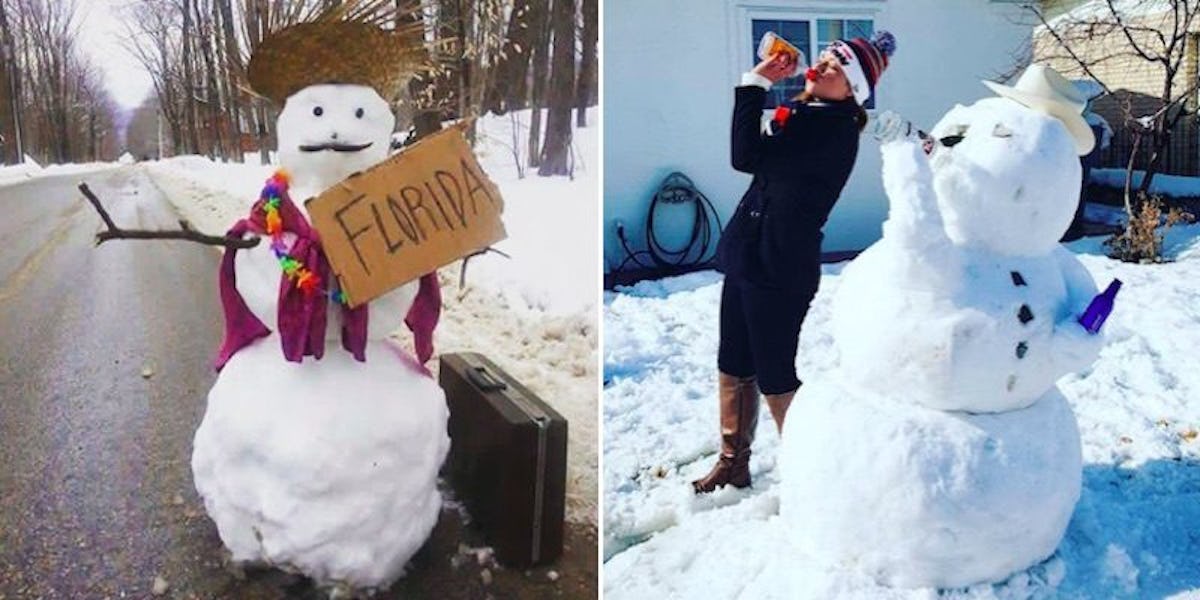 20 Hilariously-Inappropriate Snowmen Because Maybe Winter Isn't The Worst
Over the weekend, many braved the cold and ventured outside to play in the fresh, powdery snow.
As you can imagine, lots of people put the winter weather to good use by blessing bleak landscapes with all sorts of snowmen.
However, not all snowmen are created equal. When it comes to building truly memorable snow sculptures, some people really think outside of the basic button-nosed Frostys and have some fun with their snowmen endeavors.
So, in order to give you some icy inspiration, we set out to find some funny snow figures guaranteed to give you some #SnowmanGoals (while seriously pissing off your neighbors, of course!).
Seriously, Frosty has nothing on these snowmen.
Take a look at the pictures below to see these comical snow sculptures.
You can't go wrong with a snowy Stay Puft Marshmallow Man...
A frosty flasher...
A sloshed snowman...
An old, creepy Olaf...
...or a hitch-hiking hunk of snow just wanting a ride to some place sunny.
You can brave the blizzard and build a tipsy snow Ted...
A hangry Abominable Snowman...
A passed-out pile of snow...
...or a wonderful sculpture with some serious wood.
You can roll up a stoner snowman...
An ice-cold KFC Colonel...
A frigid frat boy who knows how to party...
...or a far-out frosty 'fro-man.
This snow couple really knows how much the cold weather blows.
You can construct an impressive icy rack...
Erect the perfect snow-penis in your front yard...
Build a below-freezing bong...
...or fudge together a seriously sh*tty snow sculpture.
Plus, nothing beats terrifying your neighbors with an ice-cold crime scene...
...or a snow sculpture about to get plowed.