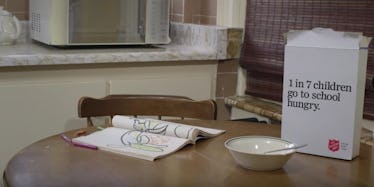 This Heartbreaking PSA Reveals The Truth About Poverty In Our World
YouTube
You never really know what someone is going through.
Illness, sadness and poverty don't always present themselves on someone's face.
It is always hard to tell whether someone is suffering from a life-threatening illness but still finds the energy to smile, or they don't have enough money for lunch but have just enough to keep a roof over their head.
Not to mention, having a roof doesn't mean you're not living in poverty. The signs aren't always clear.
In a recent video uploaded to YouTube by The Salvation Army, we're introduced to perhaps one of the most creative PSAs released this year. The international Christian organization, in collaboration with Grey Canada, has set out to raise poverty awareness and demonstrate what poverty can look like despite not necessarily being homeless.
Appropriately titled "Poverty Isn't Always Easy to See," the PSA shines a light on the more than 300,000 people currently living in poverty in Canada by creatively displaying facts based on the wide-spread epidemic around a staged open house.
Despite the campaign's focus on Canada, it's obvious that poverty is something the entire world can relate to.
As visitors enter the home, their reactions are captured by more than 20 cameras placed within the home as they absorb devastating, hard-hitting facts relating to poverty.
In a recent interview with AdFreak, Darlene Remlinger, President of Grey Canada, revealed,
Our idea was to open the doors and invite the public into the everyday home and circumstances of a family living in poverty. We wanted to show how poverty can live on your street or in your neighborhood. It's just not always easy to see.
Check out the heartbreaking video above for a closer look.
Citations: Starting Open House Is Actually A PSA Spotlight On Poverty (Visual News)