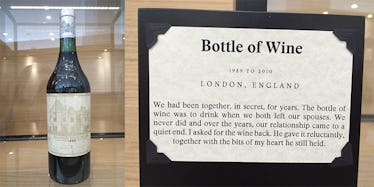 10 Things I Learned About Heartbreak At The Museum Of Broken Relationships
Kate Ryan
The Museum of Broken Relationships opened up to the press on Tuesday, and it is a stunning feat of artistic, storytelling genius.
The first impressive thing is, unlike most new museums, they have a sign on the front entrance. If that tells you anything, it's that at the very least they've thought this concept through.
Walking in, that suspicion is confirmed as you're met by a clean, white aesthetic that'll gently guide you through the beautiful open layout.
But it's the artwork at hand that transforms the space into a true museum. Cataloging broken relationships through saved trinkets -- some large and some pocket-sized -- along with short essays that put the pieces in context, the collection as a whole is a complex portrait of love and heartbreak.
As founder John. B Quinn said in a press release,
The museum is an opportunity for visitors from around the world to experience the emotions and memories embodied in objects and told through narratives contributed by others. From this we learn how different people and their relationships are, but also, when it comes to break ups, how much we share. I cannot imagine a more fitting city than ours, which, much like love itself, is filled with as many wild dreams as it is crushing defeats.
Here's what I learned about heartbreak after spending a morning at the museum.
Sometimes you need to store part of your heart in a jar on a high closet shelf.
"Mostly for space reasons but any sort of appropriate pickle metaphors can also be invoked."
Love isn't a science, it's a project.
"The thesis was wrong... I am hers, but she is not mine."
But don't work on it if the other person can't appreciate your efforts.
"I spent an entire summer making this birthday present and he left it in my car."
Where there are still reminders of love, love is still there.
"When he was away, I would put the bear on his pillow and listen to our song. I felt close to him, and I felt loved. Even a few times in the midst of a fight, when we weren't speaking and the separation of a single room felt like miles, I would squeeze its hand, listen to our song, and cry myself to sleep next to the reminder of that love."
Sometimes the most heartbreaking relationships are the ones that never were.
"He gave it reluctantly, together with the bits of my heart he still held."
Old, worn relationships can find new homes when they've reached the end of their usefulness.
"HEAVY! Please be willing to carry it down one flight of stairs because I just don't have the strength to carry the weight of the baggage of my past relationship."
The hardest relationships to let go can be the ones you never asked for.
"I was baptized a Christian by my parents. It took me 15 years to be able to break that forced relationship."
Unsettled tabs can take many forms.
"I'd spent thousands of dollars on this man and he wanted a $90 poster back. I told him that I thought he'd want me to have it after everything I'd done. He agreed. If he hadn't, I was planning to shred it and mail the pieces to him in an envelope. I kind of wish he hadn't agreed with me. It would've been such a dramatic gesture."
Loving someone more than yourself is guaranteed to end in heartbreak.
"You need to love yourself fully and completely before you can truly love another."
Then there are those you meet who are just plain dangerous. Avoid them at all costs.
"Never used. Still dangerous."
You can visit the Museum of Broken Relationships in the heart of Hollywood at the following times: Mondays from 11 am to 5 pm; Tuesdays and Wednesdays from 11 am to 7 pm; Thursdays from 10 am to 8 pm; Fridays and Saturdays from 10 am to 9 pm; and Sundays from 11 am to 8 pm. You can buy tickets on its website.