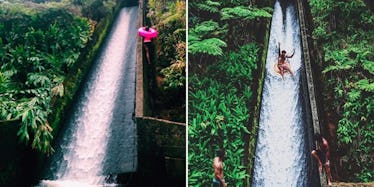 This Secret Waterslide In Hawaii Is The Coolest Thing You'll See Today
If you want to go on an adventure that really makes a splash, sometimes you have to venture off of the beaten path.
Case in point: Hawaii's hidden waterslide.
Yup, there's a natural waterslide nestled in the depths of Waipio Valley, and many people consider this glorious gem to be one of the Big Island's best kept secrets.
However, there's a reason Waipio's secret slide, which you get to via the "White Road Hike," hasn't turned into a major attraction for the average thrill-seeking tourist.
This particular hike is treacherous, unmapped and technically off limits.
If you're brave enough to take on the White Road Hike, you'll have to climb all the way up to the clouds using narrow jungle paths that meander along the edge of Waipio Valley's plunging cliffs.
Then you'll have to make your way through a quarter mile of dark tunnels before you finally reaching your destination.
Here, you'll find the infamous 35-foot flume resting on a lush mountainside in the middle of the jungle, where the only thing that stands between you and the top of the slide is a steep incline and a slimy, weathered rope.
It turns out the flume is actually part of a complex irrigation system. However, it's not hard to see that stone structure doubles as one seriously thrilling waterslide that definitely lives up to its hype.
Check out the pictures below for a closer look at this epic waterslide.
Say "aloha" to the waterslide of Waipio Valley.
It's not hard to see why this hidden slide is considered to be one of Hawaii's best kept secrets.
This 35-foot flume sits on a breathtaking mountaintop in the middle of the jungle.
Zooming down this bad boy looks fun AF.
The waterslide is technically off limits for adventure seekers...
...since the trek to get to this unmapped attraction, also known as the "White Road Hike," can be pretty dangerous.
To get to the slide, you'll have to climb up the mountain on a narrow jungle path that snakes along hazardous cliffs.
Then you'll have to hike through a quarter mile of dark tunnels.
But if you're down to live on the edge, this waterslide looks like it does not disappoint by any means.
If that's not exciting enough, the White Road Hike also has a makeshift lazy river...
Stunning waterfalls...
And a variety of heart-pumping hiking trails...
...that offer gorgeous sights with a side of adrenaline.
So, yeah. This adventure-packed oasis basically has something for every type of daredevil out there.
Citations: THE EPIC HAWAIIAN WATERSLIDE LOCALS DON'T WANT YOU TO KNOW ABOUT (OZY)