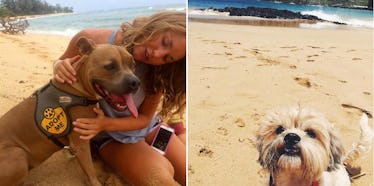 You Can Adopt A Dog For A Day In Hawaii Because Vacations Can Be Perfect
InstagramInstagram
If playing with puppies on a gorgeous, tropical island sounds like the best damn vacation of all time, you might want to stop what you're doing and pay attention.
The Kauai Humane Society is about to make all of your dog-filled vacation dreams come true with its latest volunteer initiative.
That's right. The nonprofit organization is giving dog lovers a chance to go to Hawaii and volunteer with adorable dogs, all while having fun under the sun, of course!
The Kauai Humane Society is asking volunteers to spend some quality time with its shelter pups in Hawaii by bringing them along on exhilarating hikes...
Taking them for long walks on the beach...
Visiting local schools and nursing homes...
...or embarking on any other island activity you and your furry new friend may fancy.
The shelter even dresses the dogs up in eye-catching outfits that say "Adopt Me." So, as you make your way around the island with these little fellas, you could also be helping them find forever homes.
Through the new travel program, the Kauai Humane Society hopes that the dogs will get some extra exercise, human interaction, love and a better chance of finding a new home.
If you can't bear to say "goodbye" to your barking bestie by the end of the trip, don't worry.
The Kauai Humane Society will happily let you adopt the little guy, and it'll even help out with travel arrangements, so taking your new pup back home will be a breeze.
I mean, seriously, you get to brighten up a shelter dog's day while hanging out on an island oasis.
What more could you possibly want in life?
Citations: You can now go on holiday to Hawaii to hang out with dogs in need of friendship (Metro UK)