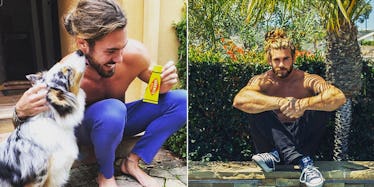 These Hairy Hunks With Beards And Man Buns Are Everything You Need (Photos)
Instagram
It's a known fact man buns instantly make any guy seem hotter.
But you know what's even better than a good-looking guy who's not afraid to twist his flowing locks into a bun?
A man who pairs his coveted coif with a big, bold beard.
I'm not exactly sure what it is, but there's just something about the irresistible beard-bun combo that will really make a woman lose her mind.
If you've been searching for the perfect collection of bearded beauties to lust after, look no further.
We've stumbled across an Instagram account called "Hot Dudes With Beards and Buns" and it's basically the answer to all your thirsty prayers.
Just as the name suggests, this eye candy account features everything from hairy hunks donning up-dos and scruffy studs with messy man buns to sizzling men who aren't afraid to show off their tempting top-knot.
Once you see these rugged, bearded babes you'll never go back to dating dudes who shave.
Allow me to introduce you to Hot Dudes With Beards and Buns.
This Instagram account is filled with all sorts of scruffy studs...
...who aren't afraid to flex some seriously impressive facial hair...
... along with their heavenly hairdos.
It's no secret these bristly babes are hot AF.
Just look at the sexy muscles on this bearded beauty.
This macho man-bunned god was made to be shirtless...
...and that tantalizing twist is a total turn on.
What's cookin' good lookin'?
Nothing is hotter than a tatted DILF who loves babies just as much as buns.
This man-bun mirror selfie is pure perfection.
No girl can resist the allure of a blonde, curly coif and a big beard...
...or a guy who's tall, dark and man-bunned.
Excuse me while I melt into a puddle on the floor.
This gorgeous gent will make you drool more than man's best friend.
A pouf is the perfect accessory for any dapper dude's #OOTD...
... and this stylish stud looks dashing with that sleek up-do.
That undercut-beard combo looks so good, it should be illegal.
Ah, so many man buns, so little time.
I'd lend you a hair-tie any day, babe.