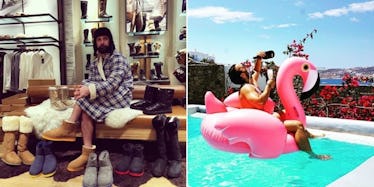 You Really Have To See These Guys Imitating Basic B*tches On Instagram
It's pretty easy to spot a basic bitch.
If you see a white girl holding a Starbucks cup in one hand and snapping photos of her UGG boots with the other, there's a good chance she's one of the many basic bitches clogging up your Instagram feed with wine glasses and bubble bath pics.
But did you know ladies aren't the only ones embracing their inner basicness?
Allow me to introduce you to brosbeingbasic.
Just as the name suggests, this Instagram features a collection of parody photos depicting bros being even more basic than their female counterparts.
I know, it sounds hard to believe. But trust me, these guys take their Instagram uploads to a level that's so basic, I can't even.
Whether these dudes are brunching with their fellow bros, sipping PSLs, strutting around in some man UGGs or simply capturing their sweater weather #OOTDs with a few mirror selfies, their photos are pretty much guaranteed to make you laugh.
Plus, it doesn't hurt all of their uploads have hilarious captions to accompany them.
Take a look at the pictures below to see a bunch of bros who are more basic than bitches.
If you thought ladies were only the basic bitches out there...
...you clearly haven't seen the brosbeingbasic Instagram.
Every bro needs a bubble bath after a long day of being basic.
These men love bathroom mirror selfies...
And showing off their Lululemons at spin classes...
...almost as much as their extensive UGG collections.
OMG, #OOTD samesies.
Basic bros love brunching with their besties....
And they're always down to sip on a few fishbowls...
...or grab some vodka and catch up on all of their favorite Bravo shows.
They know no summer is complete without a flamingo floatie pool pic...
...and a couple photos showing off their hot-dog legs on the beach.
These dudes literally can't even leave the house without their adorable fur babies by their sides...
...and they make sure their man-pedis are always on point.
Seriously, these dudes totes woke up this #basic.
Citations: Hilarious Pics Of Men Mimicking Women's Instagram Photos (Bored Panda)