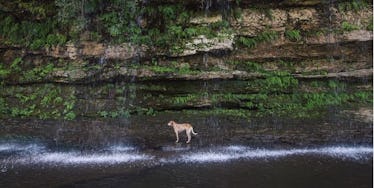 Guy Takes Amazing Photos Of His Dog While Traveling Across The Country
Instagram
I firmly believe life is meaningless unless you have someone to share it with. It could be a friend, a lover, a family member or anyone. The "who" doesn't matter as long as you have someone to spend your time with.
For Theron Humphrey, that someone is his adorable dog, Maddie.
Humphrey travels all over the country for his job as a photographer and brings his pup along for the ride every time. Together, they've frolicked in mountain snow and rode bikes through the country's back roads.
Humphrey documents these adventures on Instagram where more than one million users eagerly follow him, waiting to see what new locale he and Maddie will visit next.
See some of their journeys below, and head to Instagram for more.
Theron Humphrey is the founder of THIS WILD IDEA…
…and he's a professional photographer.
His Instagram photos are beautifully composed…
…and nearly all of them star his beloved pup, Maddie.
Together, Humphrey and Maddie have seen the world.
From untouched land in Tennessee…
And snowy mountains in Colorado…
...to still lakes in quiet Maine.
Humphrey and Maddie always have each other's backs...
...and they're the cutest travel buddies you'll ever see.
Follow their adventures on Instagram.
Citations: This Lad's Instagram Documents The Incredible Adventures He Goes On With His Dog (The LAD Bible)