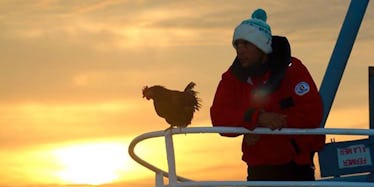 This Guy Has Been Sailing Around The World With His Loyal Pet Chicken
Not too long ago, we introduced you to Liz Clark. You know, that woman who quit her day job, bought a boat and now sails through the seas with her feline first mate?
Well, it turns out Clark isn't the only seasoned sailor with an animal BFF that also has an appetite for adventure.
Meet 24-year-old Guirec Soudée. Soudée is an adventurous dude from France who's been sailing around the world for the past two years with a feathery skipper by his side.
That's right. Soudée's unlikely travel companion is a hen named Monique.
In a recent interview with BBC, Soudée revealed,
I knew she was the one straight away. She was only about four or five months old then and had never left the Canary Islands. I didn't speak any Spanish and she didn't speak any French, but we got along.
Since setting sail in the Canary Islands, these two conquered the waters of the Caribbean before heading north to sail the arctic seas.
While seeing the world with a pet chicken by your side may sound kind of strange, these two actually make a pretty adorable pair.
Take a look at the pictures below to see these boating besties:
Soudée isn't your average 24-year-old Frenchman.
This dude happens to have a serious case of wanderlust...
...and has spent the last two years sailing around the world.
However, sailing on the high seas can get pretty lonely, so Soudée decided to take his feathery friend along for the ride.
That's right. Soudée has been sailing around the world with an adventurous chicken named Monique...
...and it's not hard to see these two are the perfect travel companions.
Since setting sail in the Canary Islands, these two have traveled to all sorts of incredible places throughout the Caribbean...
...and have even managed to make their way all the way up to the Arctic.
When this inseparable pair isn't busy manning the boat together...
You can normally find them enjoying the sights of the ocean sunset...
Getting lost in a good book...
Floating around on a giant inflatable flamingo...
Showing off their arctic #OOTDs...
Taking their sleds for a spin...
...or docking at one of their destinations and suiting up for a night out on the town.
It's not hard to see that these unlikely BFFs make a perfect pair...
And seeing all of their precious adventures together...
...might just inspire you to travel the world with your own pet.
Citations: This French man is sailing the world with his pet chicken Monique (Mashable)