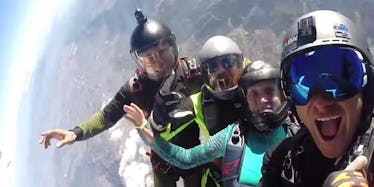 Guy Quits His Corporate Job To Travel And High Five The Entire World (Video)
At one point or another, we've all fantasized about walking out of our offices and never looking back.
Why? Well, we want to do better things with our time. You know, travel the world, meet new people and feel like our sole purpose in this world isn't to pay taxes and die.
If only we had the ability to save up some money and actually do it...
One Australian man named Craig Lewis did exactly that.
In a little over a year, Lewis was able to visit about 36 different countries, meet tons of new friends in the process and accomplish his goal of "high fiving the world."
It's safe to say Lewis is chasing his dreams!
Three years prior to embarking on this movie-like journey, Lewis worked and saved up enough money to keep him afloat during his voyage around the world.
The video's description on YouTube reads,
I hitchhiked, couch surfed, slept in airports, train aisles, floors, anywhere I needed to. I volunteered in Africa and flew wing suits in California. I trekked to Mt. Everest base camp and Base jumped off antennas in England. I made mates for life all around the world. This is the story of my trip! Thanks to everyone who was a part of it, it wouldn't have been the same without you!
There you have it.
Not only did Lewis save up enough money to quit his job and see the world but he did all kinds of exhilarating activities and met a ton of new people in the process. High fives really do bring people together!
Check out the video above for a closer look!