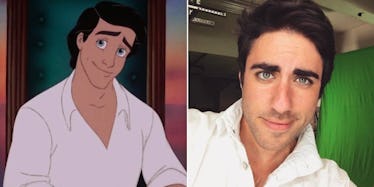 This Guy Is The Real-Life Version Of Prince Eric From 'The Little Mermaid'
Like most of my fellow Millennials, I was pretty into Disney movies as a kid.
In fact, not much has changed since then, and I still watch a couple of my favorites fairytale films on the reg.
Because let's be real, you're never too old to stay in on a Friday night, throw on "The Little Mermaid" and belt out the lyrics to "Under the Sea" for the millionth time in your life.
If this particular film happened to be one of your go-to movies as a little girl, there's a good chance you probably had a major crush on that tantalizing Prince Eric.
Just admit it, we all did.
Yep, at the age of 6, I had a pretty solid plan to kick Ariel's mermaid ass back into the sea and steal her gorgeous prince, or at least marry a Prince Eric doppelgänger who was equally as dreamy.
If there's one thing I've learned with age, it's Disney-worthy dudes are basically impossible to come by in the real world.
However, we just discovered a smoking hot stud who basically looks like Prince Eric IRL.
I repeat, this is not a drill.
There is a real-life Disney prince walking among us, and he's basically every woman's dream come true.
Allow me to introduce you to Leo Camacho.
Take one look at this fine fella, and it's not hard to see Camacho could easily be mistaken for Prince Eric's long lost three-dimensional twin.
But that's not all. This charming man also happens to be into cosplay, so in addition to looking like a Disney prince, he also dresses up like one all the time.
If Prince Eric isn't your cup of tea for some reason (seriously, what's wrong with you?), you'll be glad to know Camacho makes a pretty convincing Aladdin, Jack Sparrow and Captain Hook, too.
So yeah, I think it's safe to say Camacho is probably the most sought after man on the face of the planet.
Check out the pictures below to see this Disney prince doppelgänger.
This may look like your beloved Prince Eric from "The Little Mermaid"...
...but don't let that charming smile fool you.
This mesmerizing man actually exists in real life.
Say "hello" to our newest crush, Leo Camacho.
Camacho is one seriously blessed babe who could be a clone of Prince Eric...
...and his magical shirtless mirror pics are basically every woman's dream come true.
Apparently, Camacho is a pretty big Disney fan who's into cosplay...
...so he embraces his inner prince by dressing up in a variety of Disney costumes that make him look even more irresistible.
In addition to perfectly pulling off the whole Prince Eric persona...
Camacho can also transform himself into a seriously alluring Aladdin...
...and a Poe Dameron who's incredibly easy on the eyes.
If bad boys are more your thing, don't worry. This handsome hunk also makes one hell of a Captain Hook from the television show "Once Upon a Time"...
...and don't even get me started on how damn hot he looks as your favorite pirate of the Caribbean, Jack Sparrow.
Yep, I think it's safe to say any of us ladies would kill for a chance to ride off into the sunset and live happily ever after with this real-life Disney prince.
Citations: This Disney Cosplayer Looks Exactly Like Prince Eric In Real Life (BuzzFeed)