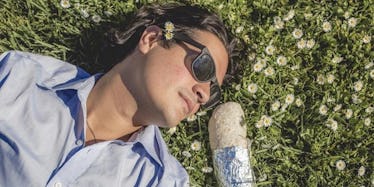 True Love: This Guy Posed With A Burrito For Romantic Engagement Pics
As sparkly diamond rings, wedding invitations and baby announcements take over my social media feed, it seems like more of my friends are settling down every day.
In just a few short months, I've watched five of my friends and even my older brother put a ring on it.
If you happen to be single like myself, I can tell you there's nothing worse than being constantly bombarded with couple selfies and wedding photos every time you go on Facebook.
But apparently, I'm not the only one suffering from engagement FOMO.
David Sikorski, a writer from San Fransisco, knows the pain of being hopelessly single in a sea of happy couples.
After seeing all of his friends find love, David started to feel pretty left out, so this eligible bachelor set out to find himself a bride.
However, he didn't just settle for any ordinary gal.
He got down on one knee for his only true love, a gorgeous carne asada burrito.
That's right, this dude is engaged to a burrito.
David met his delectable bae at a restaurant in the Mission District, and from there, things heated up between the two.
Since putting a ring on this tortilla-wrapped beauty, David and his spicy soulmate have been taking a variety of awesome photos all over the Bay Area to celebrate their engagement on social media.
According BuzzFeed, David said,
With so many domesticated photos of staged afternoon picnics in the park or holding hands running along the beach, I figured people would be interested in sharing the happiness of my own current love life situation as well.
I guess it's true when they say,
The way to a man's heart is through his stomach.
Take a look at the pictures below to see this delicious couple.
Meet David Sikorski...
...and his beloved bae-rrito.
After seeing all of his friends get engaged on social media, David felt a little left out.
So, he decided to pop the questions to his one true love, a fine ass burrito.
David first laid eyes on this beauty at San Francisco's Taqueria La Cumbre.
It was pretty much love at first bite.
Since then, the two of them have been taking a variety of endearing photos around San Fran to announce their engagement.
First, they frolicked through the flowers in Golden Gate Park...
Then, ran hand-in-hand along the water at Ocean Beach...
...before heading over to the Palace of Fine Arts.
Every engagement needs a little bubbly...
So, David also brought his bae to Alamo Square...
...where they spent a romantic afternoon sipping champagne and staring into each other's eyes.
Then, the two hopped on a trolley and headed downtown...
Where they found a few lovely landmarks...
...that perfectly captured David's feelings for his savory sweetheart.
According to David, "We haven't established a set date yet, but over the next few months I hope to be introducing our menu of friends to one another."
David is a little worried about his wandering eye for other good-looking tortillas.
But, I'm hoping things work out for this happy couple.
Citations: This Guy Took Engagement Photos With A Burrito (BuzzFeed)