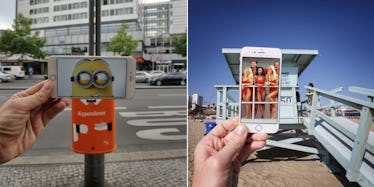 Artist Uses An iPhone To Bring Pop Culture Characters To The Real World (Photos)
These days, artists are finding unique ways to incorporate smartphones into their work.
With the quality of cell phone cameras greatly improving over the years, this new art trend was inevitable.
Not too long ago, we introduced you to François Dourlen, a France-based Instagrammer who uses his phone to bring cartoons and other pop culture figures to life.
He's continued to work on his craft, so check out the photos below for a closer look at Dourlen's latest pieces!
François Dourlen mastered the art of using his smartphone to bring pop culture characters to life.
Using just an iPhone and his imagination, Dourlen combines photos with everyday objects he finds throughout each day.
He features characters from movies, cartoons and TV shows...
Including Marge Simpson...
Edward Scissorhands...
Tyrion...
Daenerys Targaryen...
Snow White...
The cast of "Baywatch"...
Woody...
Harry Potter...
Bart Simpson...
Ted...
...and many, many more!
So far, Dourlen managed to rack up over 46,000 followers on Instagram.
Follow him to stay up to date with his latest work!