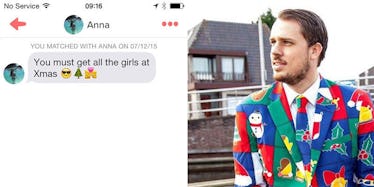 This Guy Got An Insane Amount Of Tinder Matches For One Single Reason (Photos)
From cheesy pick-up lines to the signature tiger pic, guys use all sorts of strategies to pick up women on dating apps.
But one dude may have just figured out the ultimate secret to landing a date from Tinder.
One Reddit user who goes by the username Whatevermayn revealed how a friend got 1,609 Tinder matches in only one week.
Now you're probably wondering how one man could possibly manage to get this many matches in such a short time.
Well, the answer is quite simple.
Apparently, the secret to scoring dates is simply rocking around the Christmas tree in an incredibly hideous holiday suit.
Yep, that's right. For some reason festive Christmas formal wear is making the ladies extra thirsty for this eligible bachelor.
Take a look at the pictures below to see this guy's Tinder profile.
This Redditor's friend, James, got 1,609 matches on Tinder in a single week.
So what's the secret to being an irresistible ladies' man?
Apparently the way to attract women is with some ugly suits.
Christmas suits to be exact.
Yep, after posting a few photos of his festive outfits on Tinder...
The matches started pouring in...
...and now this seasonal stud is getting a lot of attention from the ladies.
But then again, you can't blame women for going gaga over this guy...
...because let's face it, his holiday suits are pretty hilarious.
In fact, the women on Tinder are so into his suits...
They're even Super Liking him on the app...
...and now everyone basically wants a date with this festive fella.
Something tells me James isn't going to be single much longer.