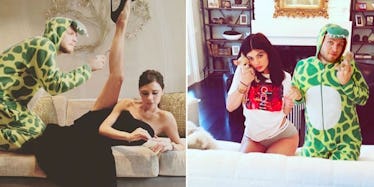 Guy In Dino Suit Hilariously Photoshops Himself Into Celebrities' Pictures
If you thought Taylor Swift was the biggest social butterfly on Instagram, think again. There is a new rising star on social media who's not afraid to flex some seriously strong squad goals with his inner circle of celebrities.
Meet Lorenz Valentino. Valentino is an aspiring actor, model and "it-dino," who might just be the most popular guy on the face of the planet.
We recently came across Valentino's star-studded Instagram account, which features this friendly dude rocking a fuzzy green dinosaur costume as he goes on all sorts of hilarious adventures with his super famous BFFs.
OK, maybe Valentino is just a weird dude in a dinosaur onesie and furry owl slippers who is really good at photoshopping himself into celebrities' Instagram pics. But hey, that's basically the same thing as having a bunch of famous besties, right?
Whether Valentino is posing for magazine covers alongside his model gal pal Gigi, helping his favorite Spice Girl shave her legs or grabbing a plunger and helping Deadpool save the day, there's no denying this dino dude is pretty damn funny, and all of his comical snapshots are guaranteed to make you laugh.
Check out the pictures below to see some of Valentino's hilarious Instagram pictures.
Lorenz Valentino isn't your average dude dressed in a dinosaur costume.
This prehistoric prankster has an impressive friend group filled with all sorts of celebrities...
...and he constantly posts pictures on Instagram that show him spending some quality time with his A-list BFFs.
OK, maybe Valentino is just insanely good at photoshopping himself into celebrity pics. But hey, that's basically the same thing, right?
When Valentino isn't making appearances in Kanye's music videos...
He's getting lost in the desert with Kim K...
Helping Victoria Beckham shave those hard to reach places...
...or chillin' with his favorite bad gal.
You can normally find this delightful dinosaur posing for the cover of Vogue alongside Gigi Hadid...
Showing off his gym progress with Khloé Kardashian...
...or hanging out with his bros from a galaxy far far away.
Valentino loves wreaking havoc with Miley Cyrus...
...or saying "hello" from the other side with Adele.
He can often be found kicking some bad guy's butt with his BFF Deadpool...
...or getting knighted by the almighty Queen of England herself.
It's not hard to see that Lorenz takes #FriendshipGoals to a whole new level.
Citations: Guy Becomes Best Friends With Celebrities By Photoshopping Himself Into Their Pics (Bored Panda)