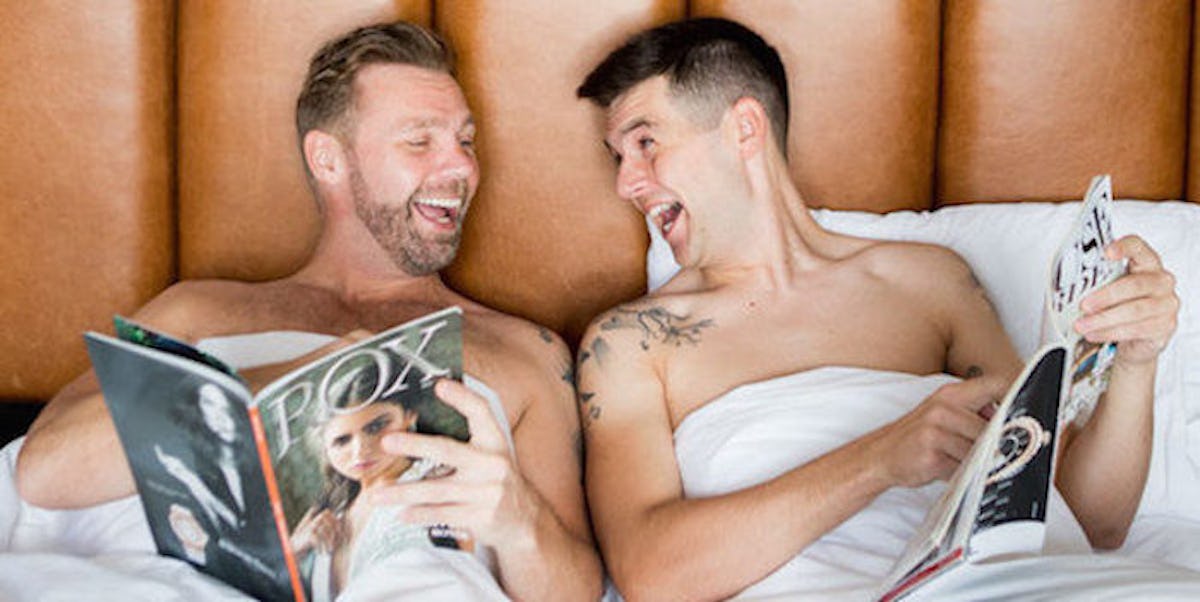 Groom And His Best Man Do Hilarious Photo Shoot To Honor Their Bromance
Katie Byram Photography
We've all seen wedding photos that tell the tales of true romances between the brides and grooms.
But, people rarely see snapshots displaying the love dudes have for their best men.
Yep, I'm talking about the almighty bromance.
John Taylor and Andy Pemberton, his BFF, are no strangers to this special type of bro bond.
Before marrying his wife, Lisa, Taylor decided to ditch the traditional getting-ready photos for a series of parody snapshots featuring him and his best friend.
Taylor and Pemberton teamed up with photographer Katie Byram to put their hilarious plan into motion.
Taylor told BuzzFeed,
[Our photographer] said she would be coming by to take a few photos, [and] I told her that we may want to take a couple of 'funny' shots. I don't think she realized that she would be photographing two naked blokes in twin bathtubs.
Take a look at the pictures below to see Taylor and Pemberton's awesome bromance shoot.
Meet John Taylor and his BFF, Andy Pemberton.
These guys met around 2003 and have been good friends for over a decade.
Before marrying his wife, Lisa, Taylor decided he wanted to have one last hurrah with his longtime best friend before the big day.
So, Taylor and Pemberton hired photographer Katie Byram to shoot a series of epic getting-ready photos, perfectly capturing their bromance.
The shoot started off with some bro spooning...
...and a few laughs in bed.
From there, the dynamic duo stripped down and headed to the washroom...
...where they enjoyed baths side by side and hit each other with wash cloths because, let's face it, bros will be bros.
Afterward, the bros threw on their bathrobes and shared intimate cups of tea before heading off to the wedding.
But, the shenanigans didn't stop there. Byram continued to capture all the brotastic moments the groom and his best man shared throughout the ceremony.
So, how does Lisa feel about her husband's bro bond?
Taylor told BuzzFeed, "She totally gets the bromance and loved the photos when she saw them."
Byram added, "I think Lisa knows that Andy comes as part of the package."
Citations: This Groom And Best Man Had A Photo Shoot To Capture Their Bromance (Distractify), This Groom And His Best Man Celebrated Their Bromance With A Photo Shoot (BuzzFeed)