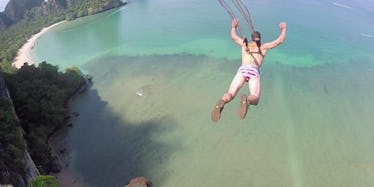 Daredevil Jumps Off Cliff With Parachute Literally Attached To His Skin (Video)
In dire need of an adrenaline rush?
It's not easy to come by from your office chair (or bed). In a recent YouTube video uploaded by Barcroft TV, we're introduced to Josh Miramant, a San Francisco-based daredevil with a passion for pain.
During the death-defying stunt captured in this video, 28-year-old Miramant BASE jumped from a 377-foot cliff with a parachute pierced into his back. Literally.
The suspension jump, performed in Ton Sai, Thailand, left little room for error. After all, the parachute was attached directly to Miramant's skin. What could possibly have gone wrong?
Check out the video above for a closer look!
Citations: US daredevil has a parachute attached to his skin for cliff jump in Thailand (Daily Mail)