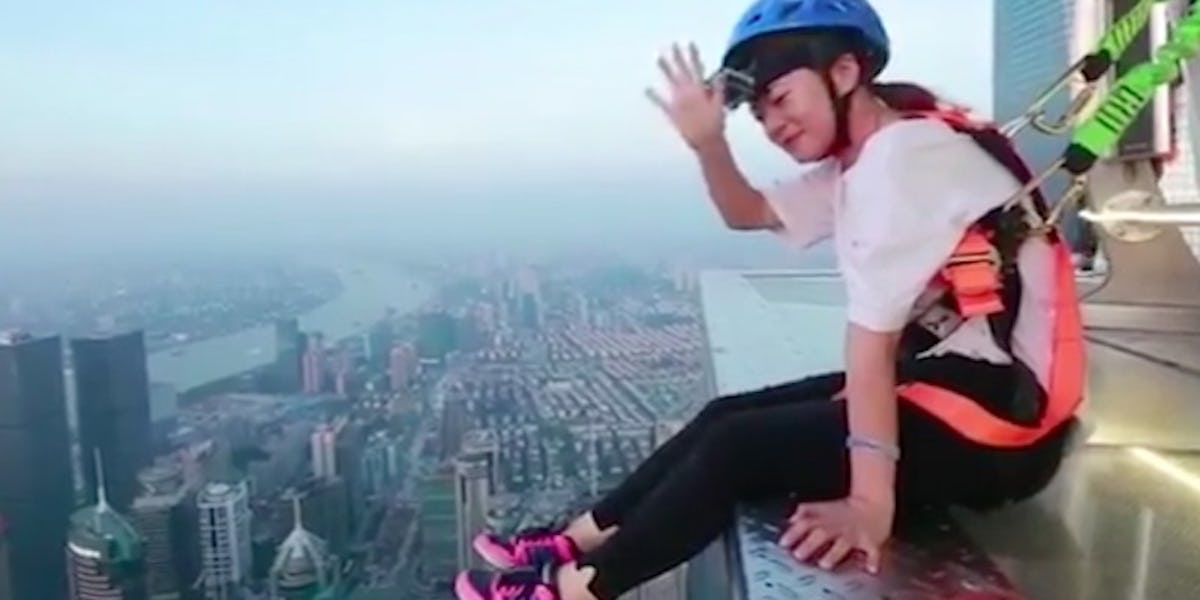 People Dangling Off This 88-Story Glass Walkway Will Terrify And Amaze You
Huanqiu.com
We've all seen adrenaline-pumping videos with urban explorers climbing to the top of the world's tallest structures.
If you've ever wondered what it would be like to stand on the edge of a towering skyscraper but don't have the balls (or bicep strength) to pull off one these daredevil endeavors, don't worry.
China has a new attraction that lets you experience the heightened thrill of living life on the edge without having to worry about those minor inconveniences, like getting arrested for scaling the side of a building or falling to certain death when a wind gust blows by.
That's right. Jinmao Tower, Shanghai's third tallest skyscraper, is set to debut its glass bottom walkway tomorrow, which will allow tourists to hang out of the edge of the 88th floor as they view the city from 1,115 feet in the air.
Apparently, the see-through walkway is 197 feet long and was purposely designed without hand rails to increase the thrill factor of the attraction.
But don't worry, there's a harness that keeps you securely strapped to the building, so you can venture to the edge and score a view that's simply to die for, without, you know, actually dying and all.
If you're wondering how much it costs to stand on top of the world, you'll have to shell out about $60 to gain entry to the glass walkway and once you're strapped in, you'll be able to stay on the platform for up to 30 minutes.
Check out the video for a closer look at this insane attraction.
Citations: Would YOU dare to stand on it? Glass-bottomed walkway opens on the edge of a Chinese skyscraper at 1,115 feet above the ground (Daily Mail)